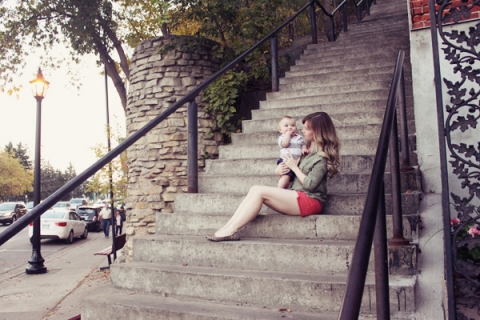 We had a lovely weekend around here packed full of fun stuff. That was a nice change for us since most of our weekends are spent working on the house. Sometimes you just gotta forget about all your todos!
We went to Jack's first baseball game on Friday night but he was more interested in the lady fans around him than the actual game. Or should I say the ladies were interested in him! Saturday we THOUGHT we were headed to the Cranberry Festival in Wisconsin… well let's just say if your Dad is driving, make sure to double check his directions 😉 We ended up exploring Stillwater instead which I've been wanting to do so no harm. We had dinner outside close to the lake and I had a chicken salad sandwich complete with a pineapple and served on cinnamon raisin bread… weird but good!
Sunday we realized Jack can no longer be in the church service with us. HA He is quite the maniac. Next week he's off to the nursery. (Why does this make me nervous?) After church we ate some apples, picked some gourds, and enjoyed the awesome weather.
What I learned this weekend…
Jack does indeed like food but only peaches.
If your Dad takes you 2 hours in the wrong direction, he will pay for your dinner.
Going to a baseball game means you will unfortunately see drunk people mowing down on nachos. This is not a pretty sight.
Six months is too soon to ask your husband how many kids he wants. You will get a response like this…  "Well after I had one, I realized I wanted zero." He's kidding of course. I think.
Happy Monday and Welcome October!