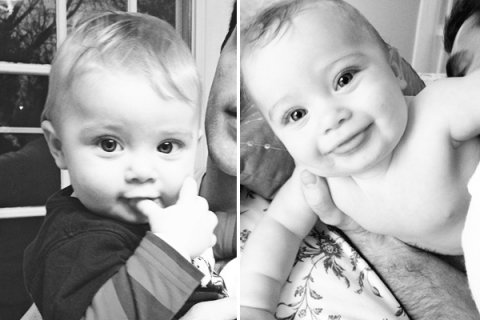 We've had a weird couple days over here.
It started with his 6 month shots on Monday. Followed by a slight fever Tuesday morning. You think that would make for a fussy baby but no, that didn't happen until last night. Fever was gone but the fussiness, whining, melting down, and refusal to eat set in. After the 2nd attempt at Tylenol and the subsequent throwing up, into the bath he went. Then he was as happy as a clam. Well until the crying at 12am, 2am, 4am, and 5am that is. Luckily, when he finally woke up at 7:30 in my bed, he was a little ray of happy. *Please do not tell him I call him 'sunshine boy' in the morning. That would just embarrass him.*
These events were yet another reminder that the best intended routines, formulas, and schedules doesn't take into account that we are dealing with a little human. A little human with feelings, desires, and preferences. One day he likes squash, the next he doesn't. One night he sleeps, the next he's up every hour. One day he wants Mama 24/7, the next he wants his independence. My little human makes life messy and confusing. But isn't that the way it's supposed to be? Who would want a little robot who does the same thing at the same time? Who never surprises me, makes me laugh, makes me cry, and makes me love like I've never loved before.
Life is better with my little unpredictable human Jack, messiness and all.
First photo is right before he threw up, second is right after his bath.