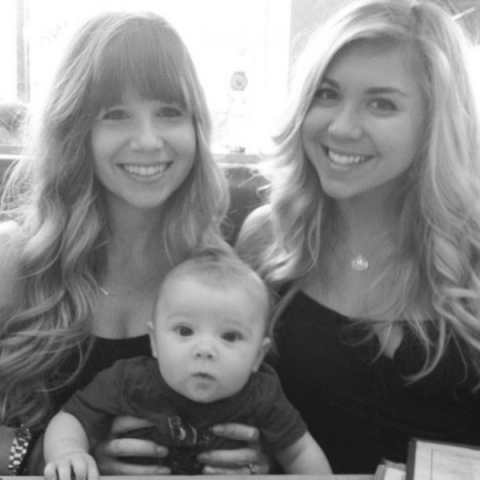 Jack and I are back from NYC and we had a fabulous time visiting my sister Abby! My sister Hannah also went with and so it was three ladies and a baby :). Hands down we all agreed the best part of NYC is the food! And so I thought I would share all the places we ate at because we literally did not have one bad meal. So if you ever find yourself in NYC, refer to this list!
I am giving each restaurant a rating based on my experience, atmosphere, and how good the food was. I am also giving them a baby-friendly rating but to be honest, not a whole lot of places in NYC are baby-friendly. I'm sure we could've found places that catered more to families but I wanted to eat GOOD food and so I took a chance on most of these and how they would handle a 4-month old. We all survived though and now I'm 5 pounds heavier :P.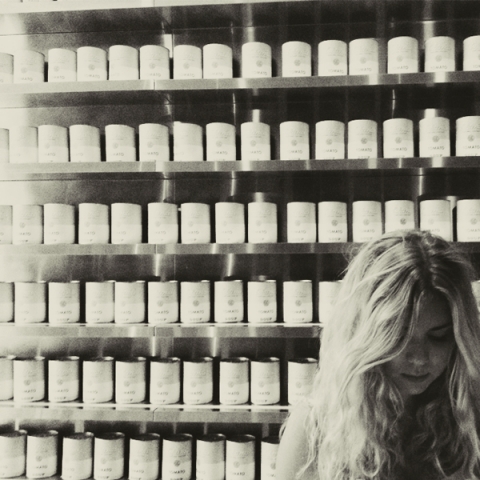 Thursday Night Dinner:
Cafeteria
New American
Neighborhood: Chelsea
My Rating: 4 out of 5
Baby Friendly: 2 out of 5
Very trendy, busy place but we got right in without reservations. They sat us in the back of the restaurant which I was grateful for since there was a place to set the stroller. The atmosphere was really cool and it seemed like a young, hip place. I ordered the special – a veggie sandwich but there was some confusion because I ended up getting the veggie burger. I mentioned it to the waiter and he was really apologetic and even the manager came over to see if it was okay. I didn't mind though because it looked good. It was pretty tasty but a tad mushy – could've been cooked a little longer. Other than that, it was a good experience overall until we left and I had to ask a man to push in his chair a little to allow room for the stroller. Ahh I've turned into THAT person!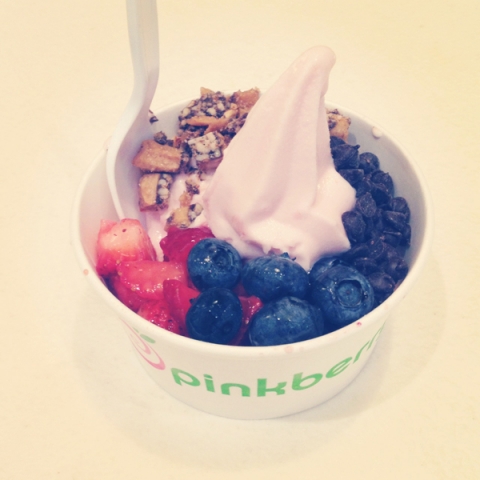 Thursday Night Dessert:
Pink Berry
Frozen Yogurt
Neighborhood: Koreatown
My Rating: 4 out of 5
Baby Friendly: 3 out of 5
I know this is a chain but I had to have it for the first time. Abby insisted there were better fro-yo places in the city but we ended up going here anyway. It was delicious as expected and the service was great. We samples lots of flavors. I ended up getting the Strawberry – very yummy.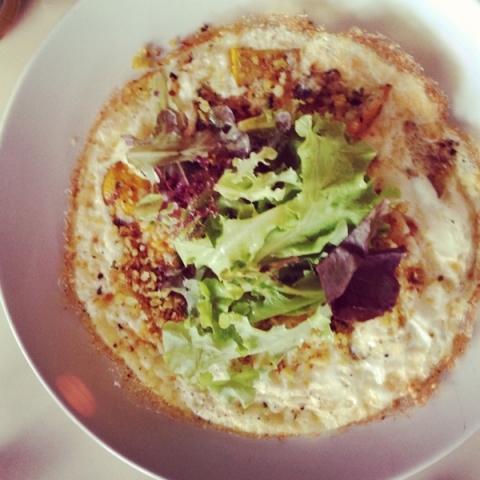 Friday Brunch:
Cookshop
New American
Neighborhood: Chelsea
My Rating: 5 out of 5
Baby Friendly: 3 out of 5
Big place and no wait. I had the Egg Frittata with goat cheese and bread crumbs – AH-mazing. I ate the whole thing even though it was huge. Service was good, no complaints. Atmosphere was cool and there was lots of room for the stroller.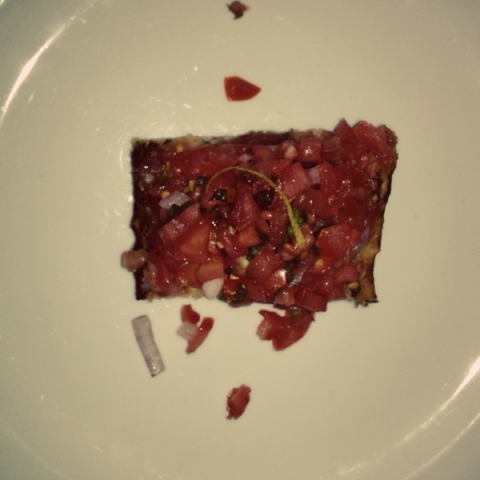 Friday Dinner:
Sambuca
Italian
Neighborhood: Upper West Side
My Rating: 3 out of 5
Baby Friendly: 4 out of 5
Made reservations but we didn't need them because we arrived an hour early and got right in. I didn't feel bad we had a baby since there were other families and babies there although the atmosphere was pretty fancy with white table cloths. I didn't feel comfortable breast-feeding at the table so I did it in the bathroom which wasn't very convenient (big surprise). Our waiter was the definition of strange. He took our drink orders and then whispered something to the hostess; it was clear they were having a conversation about us. After that he came back to the table and asked for my ID. I guess he didn't think I was old enough to drink? HA I guess a baby doesn't make you look 'of age'. We ordered the family style brushetta – WOW and the primavera. Everything was delicious so it made up for the weird service.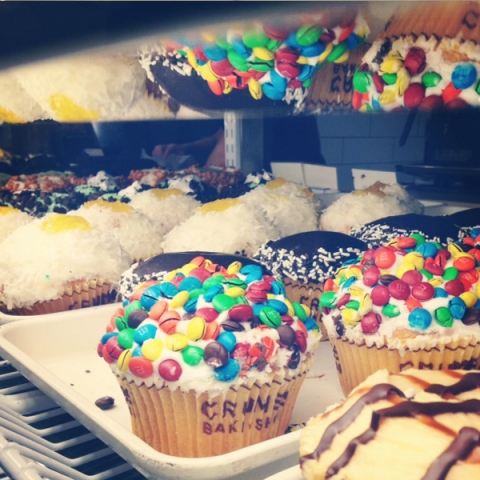 Friday Dessert:
Crumbs
Cupcakes
Neighborhood: Midtown
My Rating: 5 out of 5
Wow so many choices so this was hard. It took us like a half hour to order. I ended up getting the peanut butter cupcake with peanut butter cheesecake filling. Really good but super peanut-buttery. I couldn't eat all of it probably because I had to taste my sister's cupcakes too. Abby had the devil's food cupcake and Hannah had the peach cobbler, all delicious. The only downside is that this place closes at 9:00pm so we barely made it in time but there were still so many choices.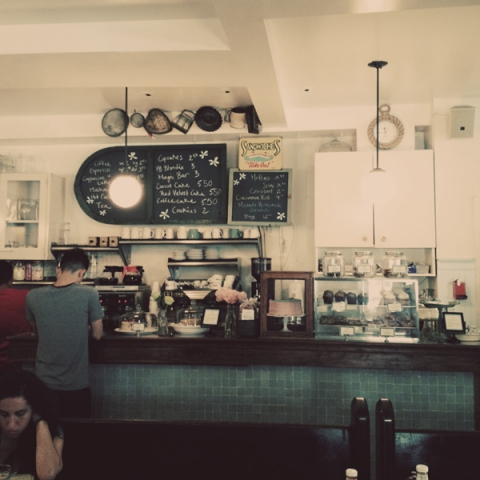 Saturday Brunch:
Penelope
American Breakfast/Brunch
Neighborhood: Midtown East
My Rating: 5 out of 5
Baby Friendly: 2 out of 5
This place was a little gem. We had to wait an hour so we went to Starbucks down the street for coffee. I was thankful I brought the baby carrier that day and not the stroller because there was no way the stroller would have fit in this place. It was small and super loud and busy but really good food. I saw another tiny baby who was nursing so I didn't feel so bad doing it. I also don't think anyone paid any attention since it was so busy. I had the omelet and the white peach bellini. I love these types of brunch places because of the fixed prix which includes the entree and drink in one price. It was $15 total. Pretty good price for what I got! The only downside was the bathroom which was pretty gross and absolutely no where to change a diaper. Abby and I got pretty good at changing Jack in the air ;).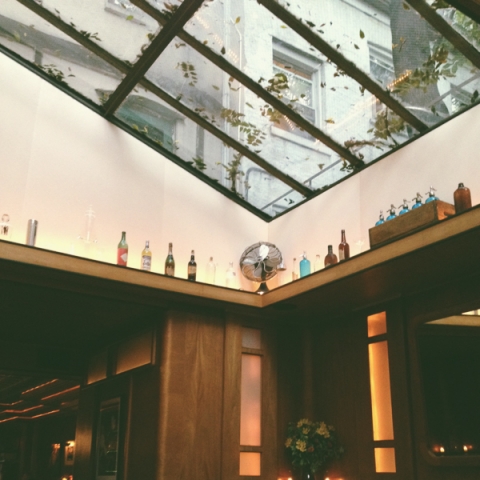 Saturday Dinner:
Employees Only
Seafood
Neighborhood: West Village
My Rating: 4 out of 5
Baby Friendly: 1 out of 5
Don't take babies here. haha Half of the place is a bar and the back half has dinner seating. We had reservations at 7:00 – early by NYC standards which actually was better because of Jack. The bar was packed and there was no one having dinner yet. The host and waitress were polite enough but you could tell it was not a place for babies. The host did check our stroller which was nice and the waitress divulged that she was expecting #2 so it made me feel a little better. The food was crazy good though. I had the pork chop which I wanted to gobble down but Jack had other plans :). Abby and Hannah did gobble their food though and then had to wait for me to finish. I definitely recommend this place to anyone who wants to have a scrumptious dinner and then hang out longer at the bar. We, on the other hand left shortly after dinner.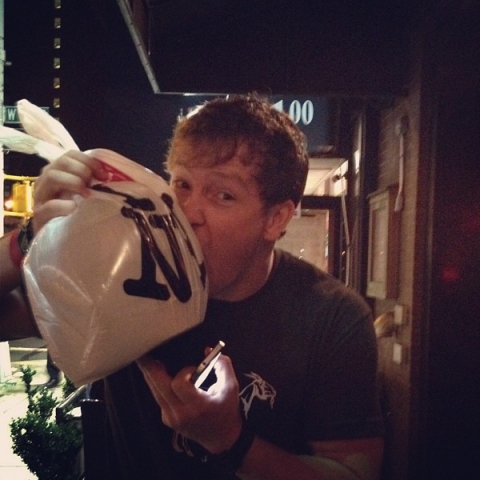 Saturday Dessert:
Rogue
American/Sports Bar
Neighborhood: Flatiron
My Rating: 4 out of 5
This was an interesting experience. On our way home from dinner, we were looking for places that had New York Style Cheesecake. We stopped at this place since they had it on the dessert menu. By that time, it was getting late and there was a bouncer at the front door. While we were talking to him about how to order the cheesecake, 2 guys appeared and made a smart comment about a baby in a bar. I looked up at them and recognized them as Johnny and Evan from the Real World Challenges. They asked what we were trying to get and we said 3 cheesecakes. No problem they said and went in and bought us 3 cheesecakes to go. HA The cheesecake was creamy and delicious only lacking more strawberries. But for free? I'll take it!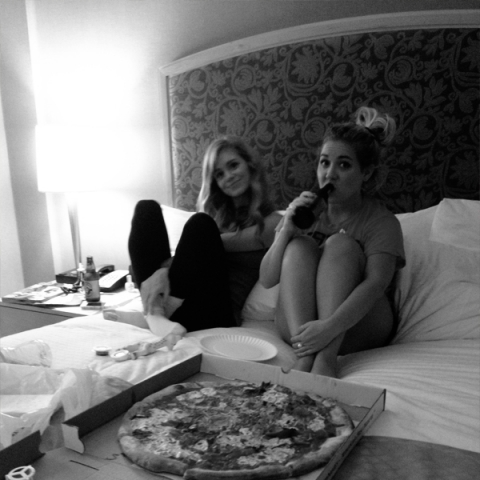 Sunday Dinner:
Lombardi's
Pizza
Neighborhood: Nolita
My Rating: 5 out of 5
OMG this pizza is to-die-for. Definitely out of our way in regards to our hotel but so worth it. We ordered it for take-out so we could watch the Bachelorette finale which was underwhelming to say the least. I was Team Shawn, nuff said. We got a large pizza for 3 of us which looked huge but we ate all of it. It was just that good. We had red onions, red peppers, and pancetta on ours. Definitely A+.
Sunday Dessert:
Flavaboom
Frozen Yogurt
Neighborhood: Flatiron
My Rating: 5 out of 5
Abby was right, this place has better fro-yo than Pink Berry. You put on your own toppings vs. Pink Berry doing it for you. They had more flavors and all of them really good. I ended up getting the Pomegranate Raspberry with cheesecake bits. This is making me nostalgic. Can Rochester please get a fro-yo place already??
Monday Brunch:
Clinton St Baking Company
American Breakfast/Brunch
Neighborhood: Lower East Side
My Rating: 5 out of 5
Baby Friendly: 4 out of 5
Okay the peak of the food was this place. We waited an hour and but it was so worth it. The place is tiny and pretty much in the ghetto but that doesn't matter when you have the best brunch of your life. When we were seated we immediately ordered the mixed berry scone. Best scone I've ever had. Ever. I then had the southern breakfast. Again ate the whole thing. Fried green tomatoes and cheese grits, um YESSS. The place is all organic and local food. I like it even more. Hannah almost bought the cookbook, I wish she had. To make it even better, they had a baby changing table in the bathroom. Is this place for real? Of course we ordered 3 more scones for the road. Oh and Martha Stewart was here, need I say more?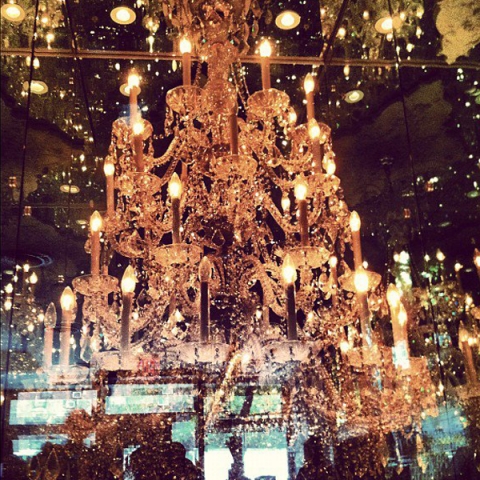 Monday Dinner:
Room Service
Thai
Neighborhood: Hell's Kitchen
My Rating: 4 out of 5
Baby Friendly: 3 out of 5
This was recommended to us by a makeup artist at Saks. Super trendy and fun atmosphere. If the place has a giant chandelier for my son to stare at contently, I'm in. My sisters had the authentic Pad Thai and said it was so good. I had the Mango Lemongrass Chicken which was again really good. There was plenty of room for the stroller and loud and busy enough for a baby. Got in and got out fairly quickly without a reservation and they had really reasonable prices.
Monday Dessert:
Magnolia
Bakery
Neighborhood: Midtown East
My Rating: 5 out of 5
You probably can't go wrong here. I had the caramel cheesecake, Abby a cookie bar, and Hannah a chocolate buttercream cupcake. I guess this is the place that started the cupcake craze in NYC and was featured on Sex and the City. I understand why. We got here sort of late but it was hoppin. The only downside was that there was no where to sit and it was raining so we stood there for awhile trying to figure out why we didn't bring the umbrella. We eventually sprinted to the subway and we ate our treats in our hotel room. Cheesecake for birthday cake is what I'm about!!