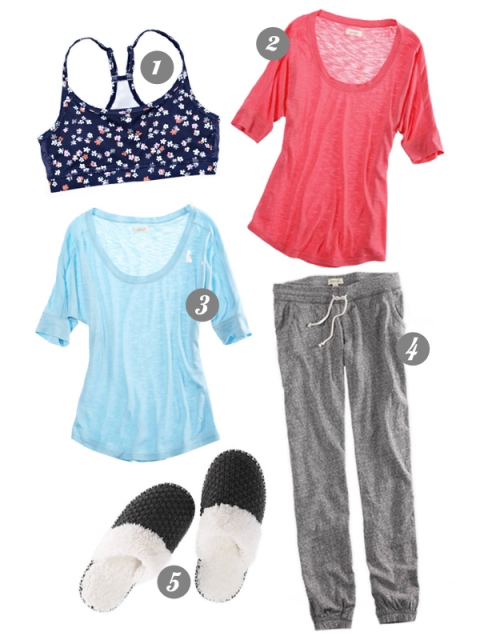 Let's be honest, I wasn't about to brave the cold this time for Fashion Friday – it's 14 degrees out and the wind is unbearable. Plus I'm sure I don't look so hot in my maternity sweatshirt and comfy pants 🙂 So this time I'm sharing a couple things I bought for my upcoming hospital stay! One thing my sister said was important to her when she had her baby was to have a new outfit to change into after having the baby – just to feel a little more pretty about yourself. I LOVE the store Aerie for lounge wear so that's where I got all of this.
1) Floral Sports Bra In case I want to hop in the tub at some point.
2) Free & Easy Tee in Pink Blush Size large 🙂
3) Free & Easy Tee in Robin Blue
4) Gray Lounge Pants The drawstring is key!
5) Cozy slippers Christmas gift from my sister.
Other things I have packed so far is chapstick, my toiletries, a heating pad, and my camera. I still need to get a cute baby book to put his footprints in and a long comfy robe. Anyone seen any pretty ones lately? I'm having a hard time finding one!