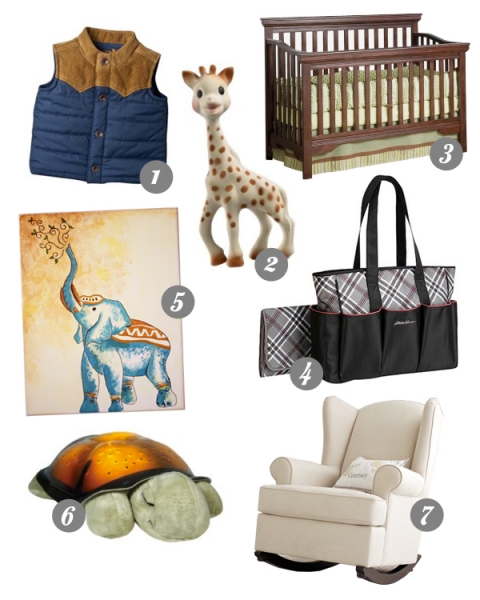 Slowly, verrry slowly, I have been collecting a few things here and there for Baby. Every time I get something, I feel all the more excited for his arrival. Here's some of the stuff I have for him, although if I'm being honest, a lot of this stuff is for me :).
1) His first puffy vest. Every Minnesota kid needs one.
2) Sophie the Giraffe. Isn't this a must-have for every baby??
3) Delta Biltmore Crib. I got ours at ShopKo on sale woo-hoo!
4) Eddie Bauer Diaper Bag. You have no idea how much I wanted this or this but then the practical side of me won and I bought this one for $34.99. D said he won't mind carrying it around too.
5) Elephant Painting. I painted this a couple weeks ago for his nursery. I found a similar painting on pinterest that I loved and then reproduced it with my own touch 😉
6) Twilight Constellation Night Light. My sister showed these turtles to me and I fell in love so I was thrilled when I found it wrapped under the tree!
7) Wing Back Rocker. I searched high and low for the perfect rocker and landed on this one. It has a high enough back that I can rest my head. I can't wait to rock him to sleep in this!