I was actually asked by several readers to do this post after I had Jack but now seems like a better time since I have a little experience. I remember feeling overwhelmed by all the products out there as a first-time Mama and now that this is the 2nd go round, I know what is needed and what isn't. I split up the categories into Care, Wear, Sleep, and Play: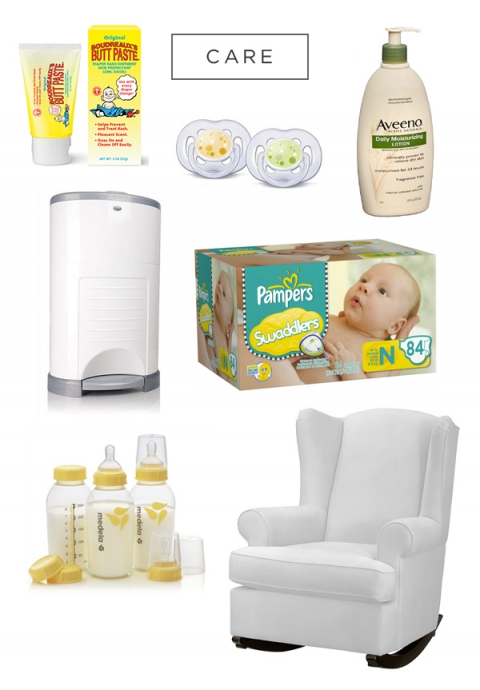 Butt Paste My sister (and Mom of 2) recommended this to me and I've never looked back. It seriously works the best for diaper rash.
Philips AVENT Pacifiers These probably worked a little too good (still need to wean Jack!). They were a God-send when we started using them with Jack at 2 weeks. Plus I like that they come in clear!
Aveeno Daily Moisturizer I actually use this for myself too. I tried Johnson & Johnson and some other brands for baby and I hated how oily they were so I defaulted to Aveeno since I already had it. It really works the best. Jack had a little eczema during the colder months and this cleared it up.
Diaper Dekor Disposal System We picked this because you can use regular garage bags in it as well. With other systems you have to buy the special bags that go with the disposal system.
Pampers Swaddlers I had previously registered for Huggies but when the hospital used these because of the color-changing wetness indicator, I was sold. Plus I think they provide way more odor control than other brands.
Medela Bottles We tried a bunch of different bottles and these were the only ones Jack liked. Since I breastfeed Jack for 6 months, I also have the Medela Pump In Style which I used 3 times a day when I went back to work.
Rocker This was my splurge item and I am so happy with it. I used it almost every night with Jack and will now use it for baby #2 too! Obviously you don't need an expensive one though – any rocker you will treasure!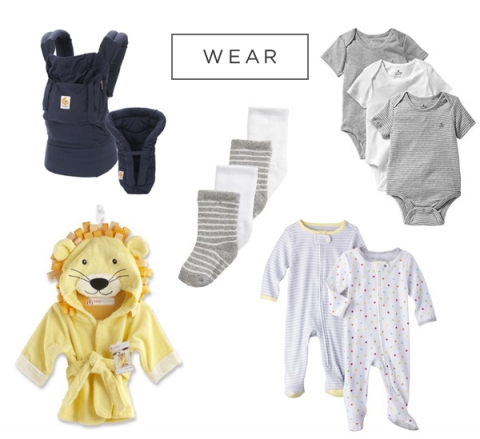 Ergo Baby Carrier I did extensive research on baby carriers before I registered for Jack and this one always won. I'm so glad I got it because it was super handy when I took Jack to NYC with me at 4 months, not to mention many shopping excursions! I plan to use it even more with this baby, especially around the house.
Gap Socks I've found these are the only ones that actually STAY ON their little feet! Yeah they aren't as cheap as Target but what's the point if they don't stay on and you lose them anyway!
Gap Favorite Onesies  I have been asked so many times what baby boys wear and my answer is always, These! They are my favorite because they are the softest and there are so many colors and patterns available for boys and girls.
Sleepers with zippers Zippers are way easier than buttons to deal with for middle-of-the-night diaper changes!
Lion Towel I thought animal towels were so cheesy before I had Jack so I didn't register for any but somehow I ended up with one anyway. My mind was totally changed when I wrapped Jack up in it. It is sooo cute! I die.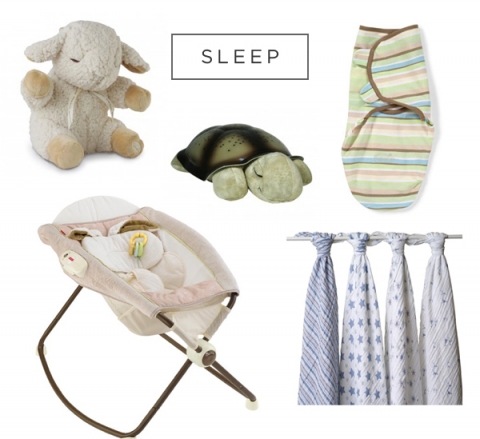 Sleep Sheep This is probably one of my favorite baby items. Amazing how much it helps soothe them when they are so new. And we still use it religiously with Jack. Best noises, so cute, and hooks to the crib.
Twilight Turtle Not exactly an "essential" but it's such a cute nightlight!
Swaddleme Swaddling is essential when they are so little. We loved these and used them every night. Jack was such a squirmer so the velcro kept him swaddled and always he slept better that way.
Rock n' Play Sleeper This came highly recommended by friends but it didn't exist when I had Jack. We used a pack n' play with him the first couple months when he was in our bedroom. I'm excited for this since it doesn't take up as much room as the pack n' play and I can easily move it from room to room.
Aden & Anais Muslin Blankets I love that these are breathable and so versatile. I used them to swaddle, for tummy time, and for covering him up in the car seat and stroller.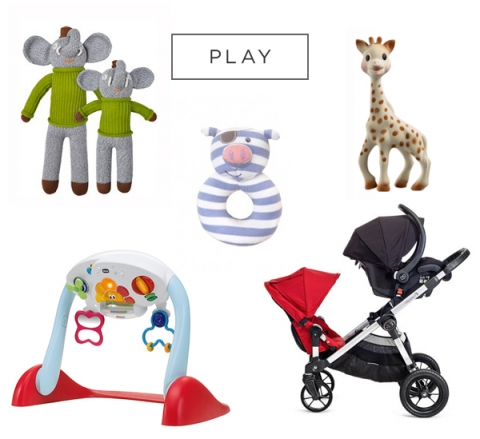 Bla Bla Dolls I've bought these dolls for friends but don't have one yet! But how cute would it be in the nursery and as a best friend for your baby? 🙂
Pirate Pig Rattle Um how cute is this?
Sophie The Giraffe Jack loved this very early on. He started teething at 4 months so it came in very handy.
i-Gym Activity Center We used this from day one. We loved that it was transitional so we could use it when Jack was on his back and during tummy time. He got the hang of kicking it right away and then when he got older he started using his hands to play with it. As a toy, it lasted a really long time entertaining Jack.
City Select Stroller If I would've known I was going to have a 2nd baby within 2 years of my first, I would've bought this the first time! It is more of a wish-item right now because of the price tag but it has come recommended by friends as a double stroller. If you look at the website you can see how many different configurations you can set it in. I can use my existing Chicco car seat with it too. It would be perfect for summer walks. My birthday is coming up…. Hint hint anyone??