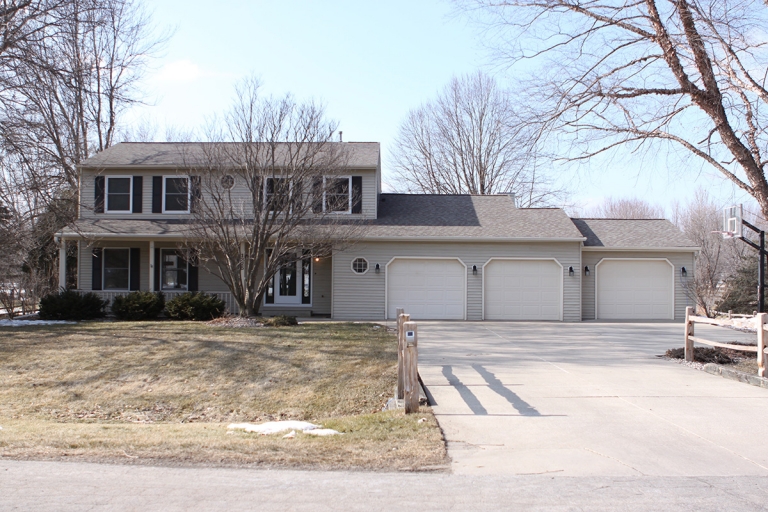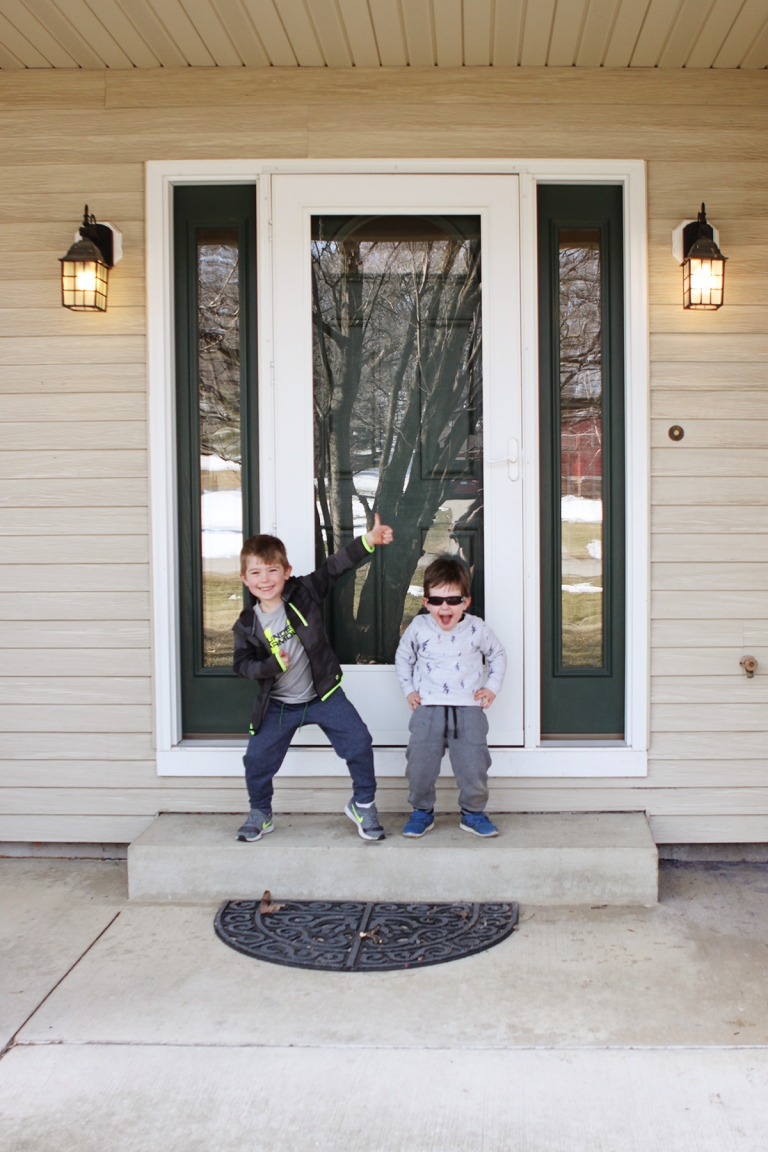 We bought a house! We officially closed last month and have jumped right into projects. But let me back up and tell you how this house came to be ours…
As you may know, last year we had to move to be closer to my husband's job (we must be within 30 mins of his employer). At that time, we weren't positive we wanted to jump into buying another house so we decided to rent for 6 months. Over that course of time, I kept an eye on the market and turned on an email alert for houses for sale in our new zip code. The new year rolled around and I still hadn't seen anything worth looking at.
Then one day I saw an interesting prospect in my email. It is only 2 mins from where we're renting so I asked Dustin to go drive by it. At first we wrote it off thinking it was too much work, too old, etc. But I saw they were having an open house so I asked my Mom if she would go with me. I went into it thinking I would just see all the problems but I ended up loving it. Not as it was, but more for its potential and location. I texted Dustin at work and told him how much I liked it. At the open house, it probably didn't help my anxiety level being surrounded by so many other potential buyers; not to mention the fact that houses were flying off the market in our area. I was fully ready to convince him we needed to make an offer immediately but once he saw it the next day, he was on board too. We put in an offer, asked the owners to throw in the riding lawn mower and they accepted. Woop!
Let me show you around our 1980's fixer upper…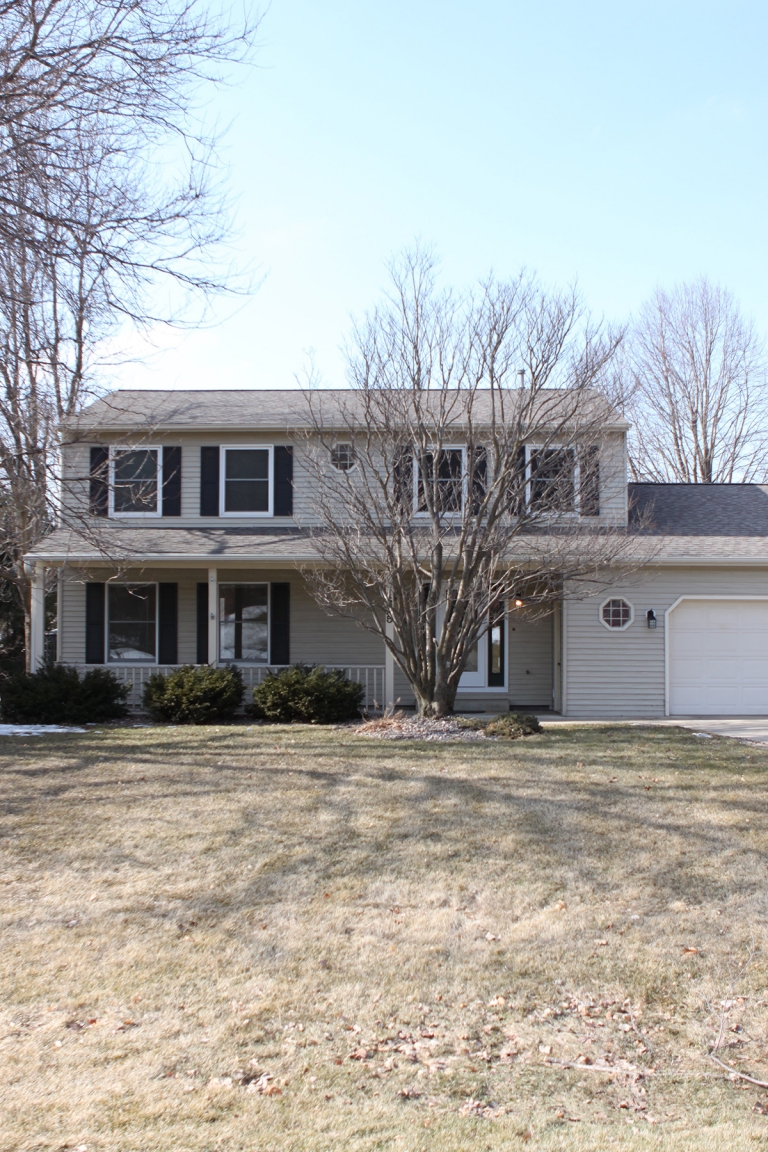 We love that it has a 3-car garage, a large driveway for the boys, and sits back a little from the road.
(Sorry in advance for the low quality photos; I took most of these on my phone. I figured 'before' pics can be crappy anyway haha)
ENTRY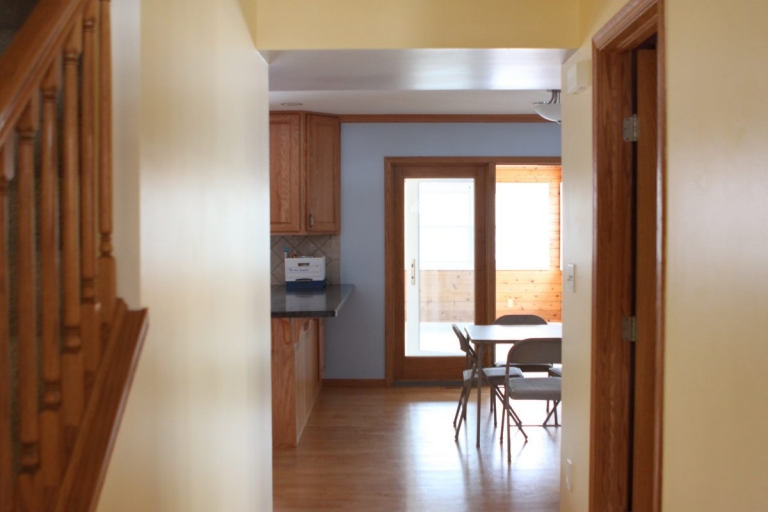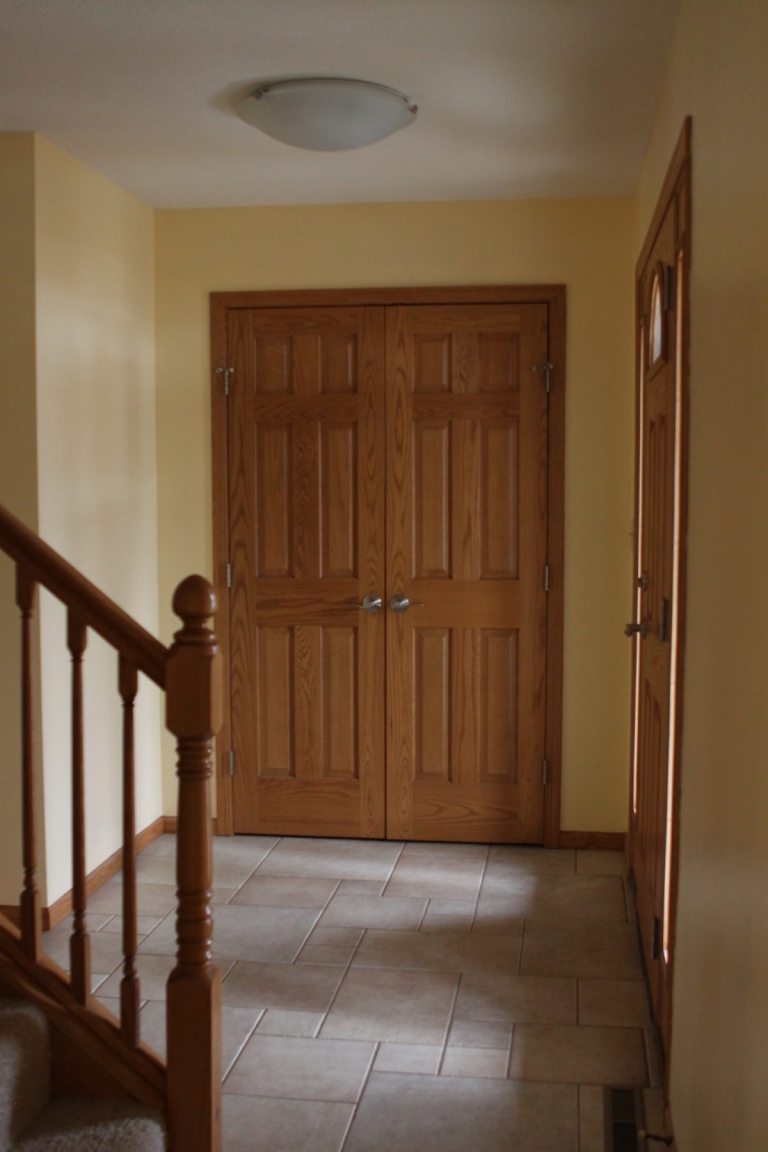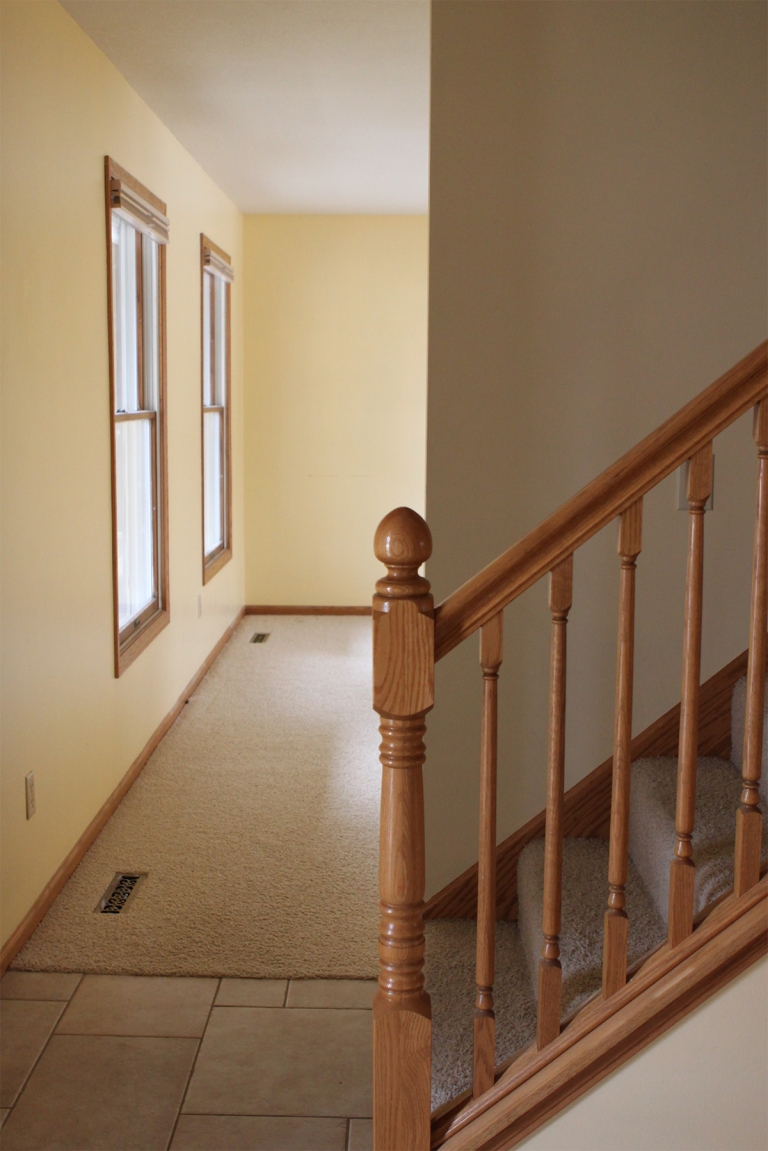 When you first walk in the door, there's a little entry way with a closet on your right. Behind the door is the stairway which leads to a living room. If you walk straight toward the back of the house, there's a bathroom on your right and then it opens up to the kitchen. See all that shiny honey oak? We're going to paint it ALL.
LIVING ROOM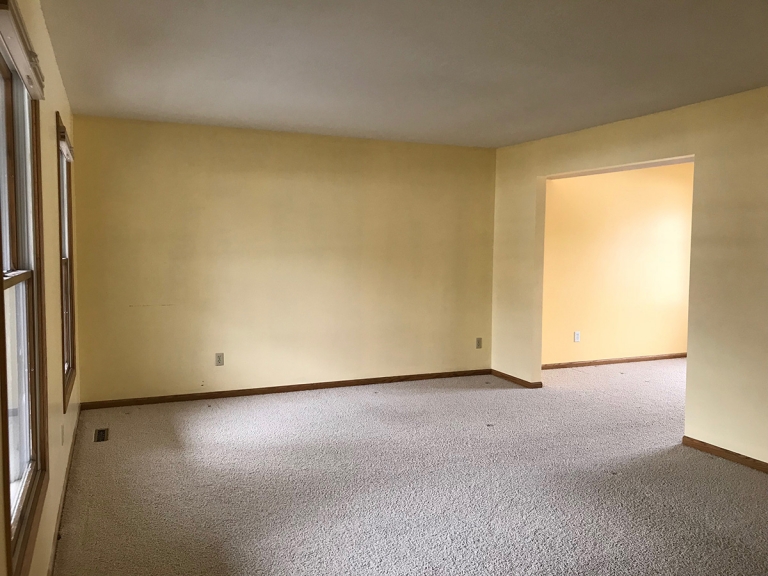 This room is in the front of the house and opens up to the dining room. I kept going around and around with what to do with this room because we already have a family room off of the kitchen and we don't really need 2 living spaces. Maybe it could be an office? Maybe a dining room? Play room?
DINING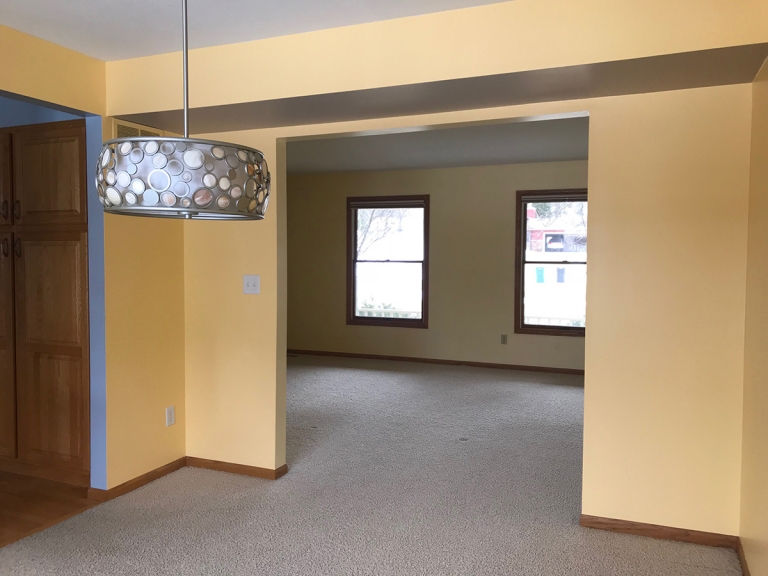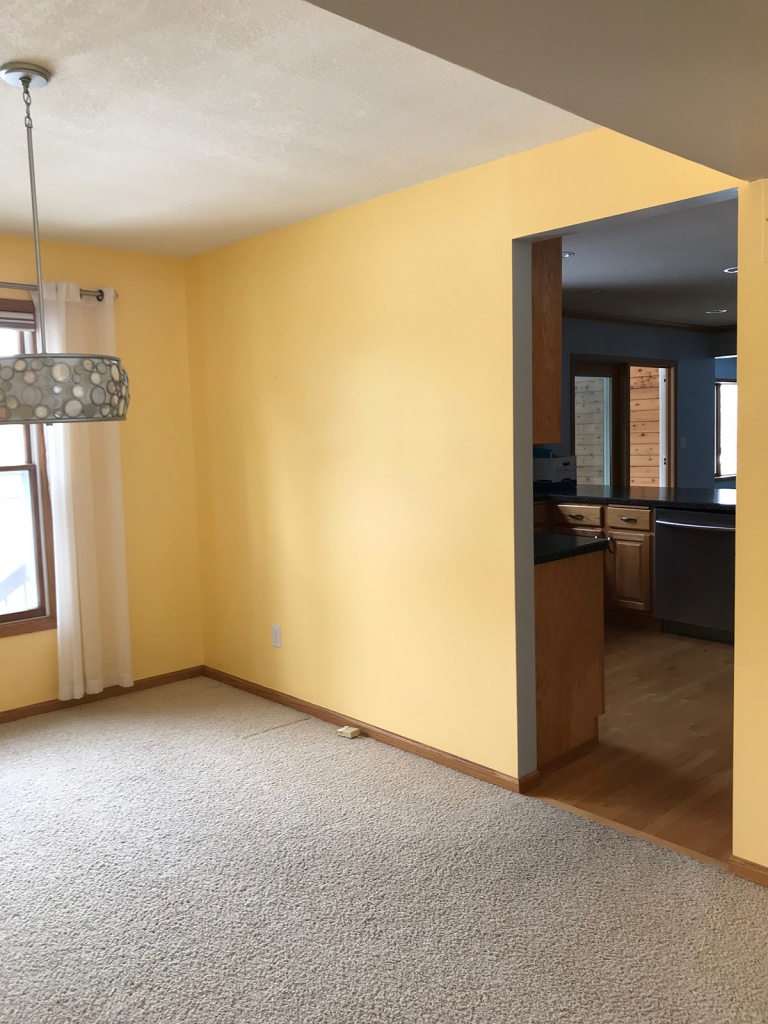 Off of the front living room is the formal dining. Immediately when I saw the house, I imagined removing that wall in order to have a larger kitchen. Can you start to see my vision??
KITCHEN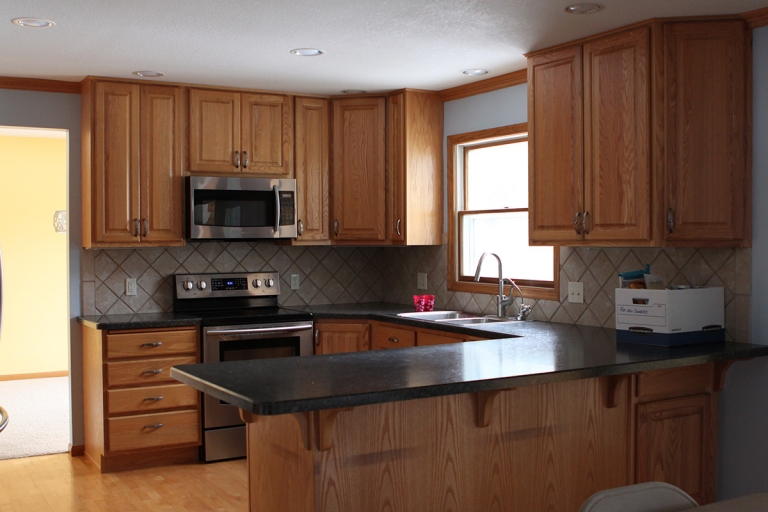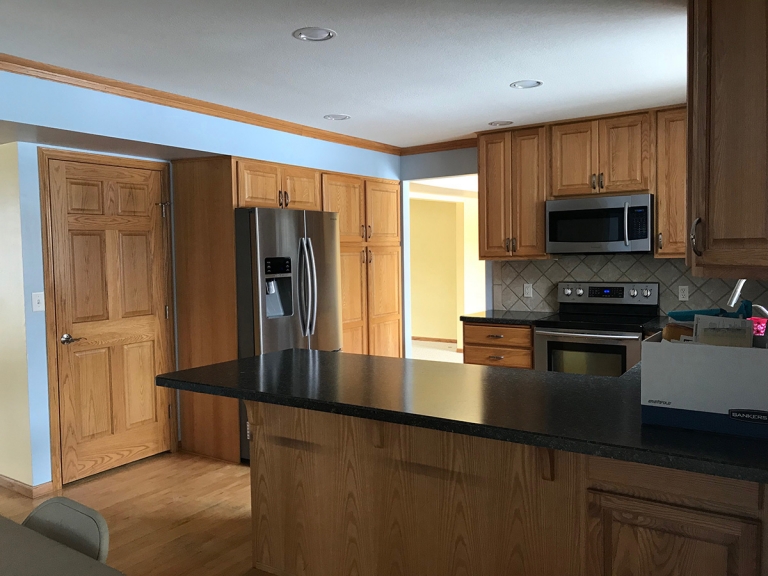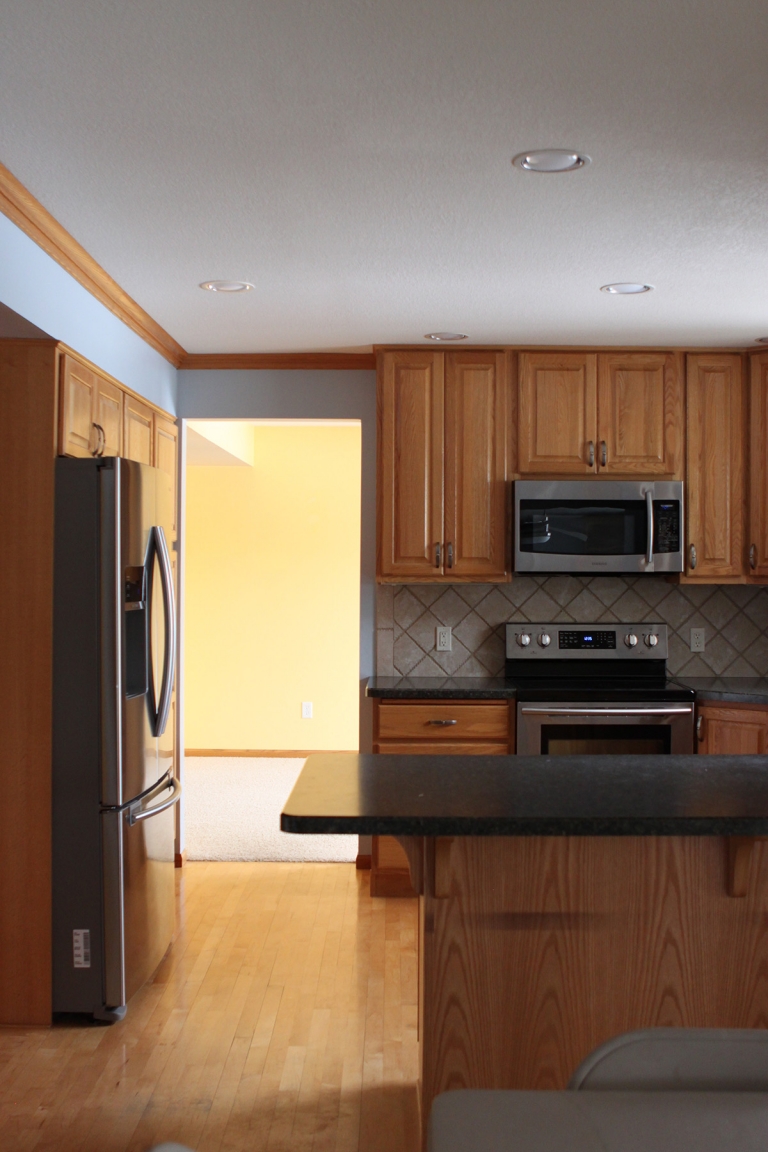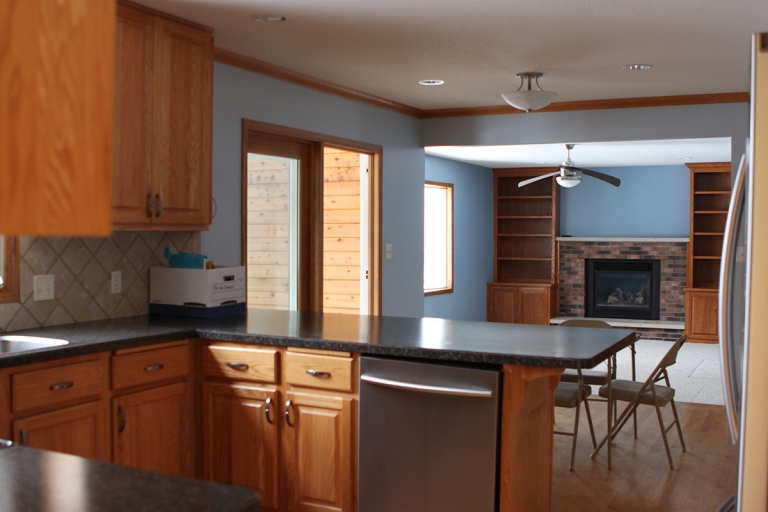 This will be the majority of the renovating. I don't love how dark and small it is in relation to the rest of the house. I'm thinking of putting in a much larger window and a pantry.  More on the kitchen plans later!
LIVING ROOM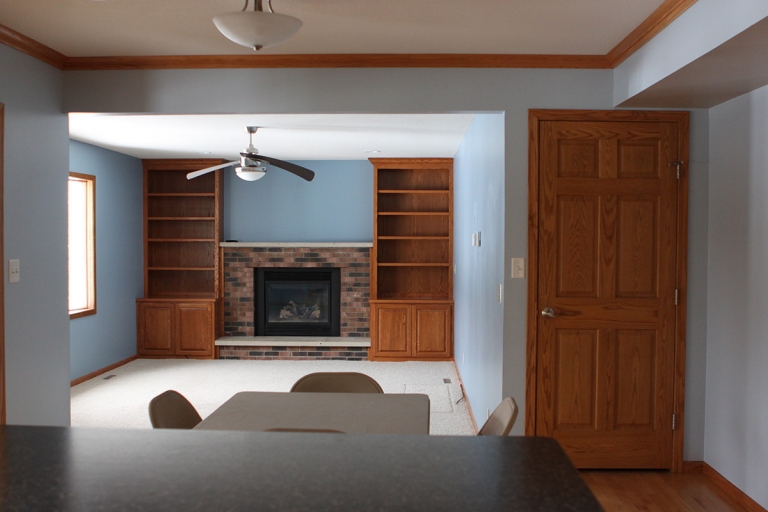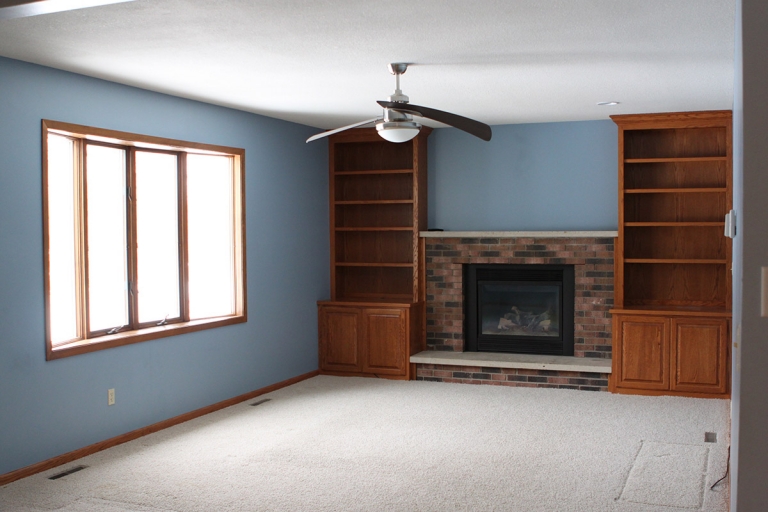 Off of the kitchen, there is a step down to the family room. In here, we will put new flooring, and some cosmetic changes like paint and a new mantle. But I love the fireplace bones and large window!
SUNROOM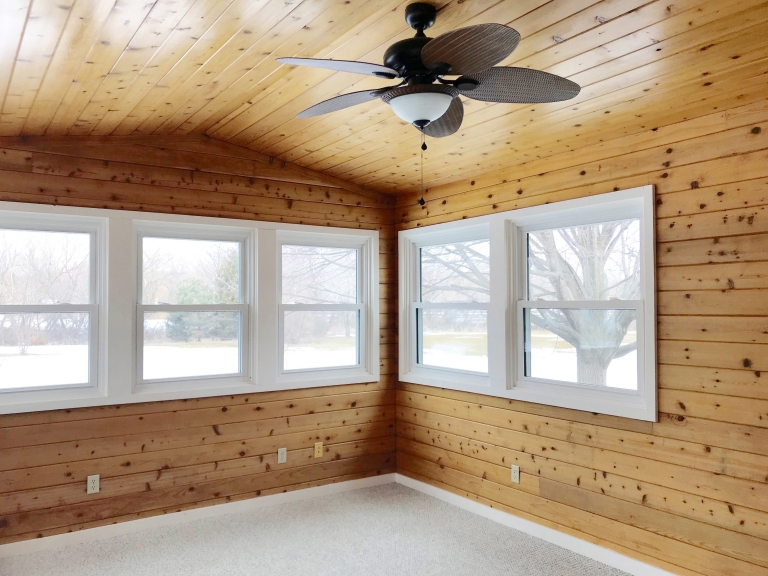 This is my favorite room in the house because it's so bright and looks out on the backyard. I would love to put a little desk in here and work right under that back window! Am I crazy to paint the walls white? 🙂
HALF BATH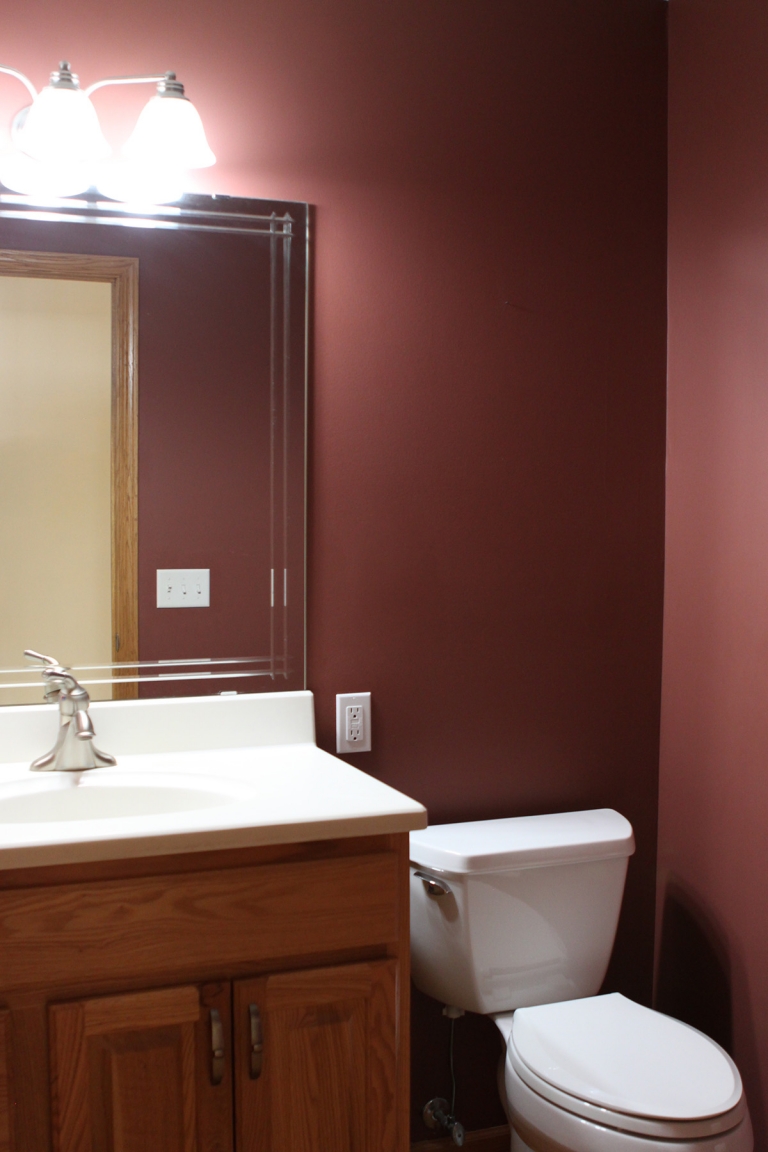 I'd love to do something fun in here! Right now it's a little blah.
LAUNDRY ROOM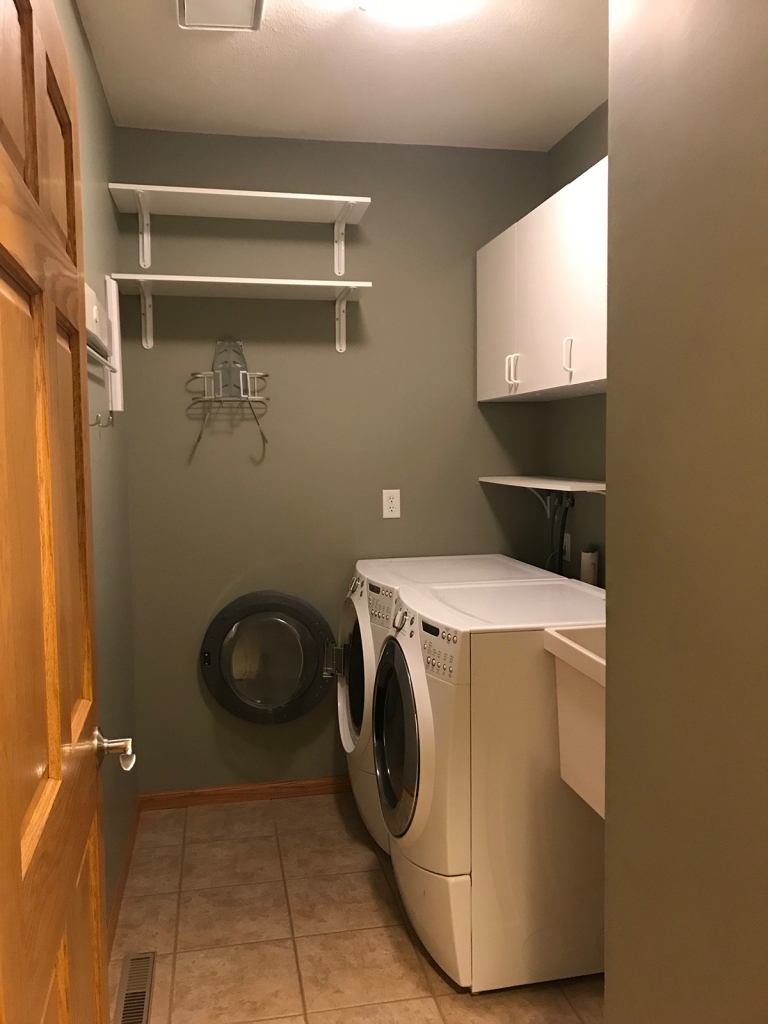 Off of the eat-in kitchen is the laundry room and linen closet which also leads to the garage . This will be staying as-is but eventually I'd like to make this into a mudroom and move the laundry room.
UPSTAIRS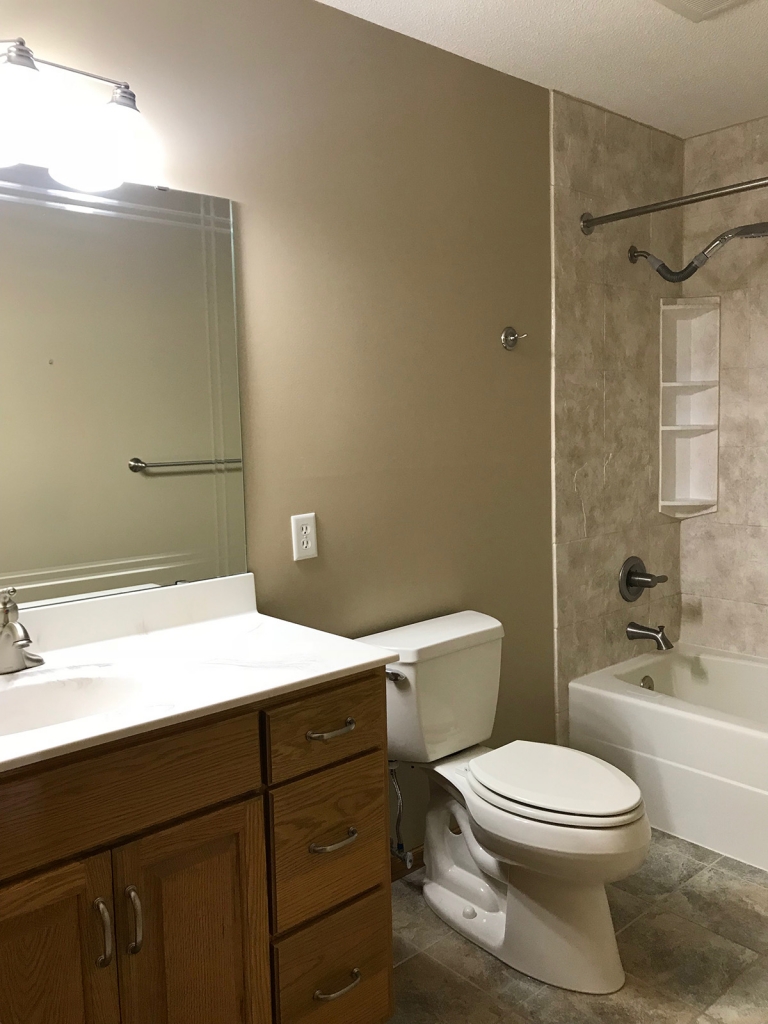 At the top of the steps, there is a kids bathroom. Pretty standard and boring. This will be a later project!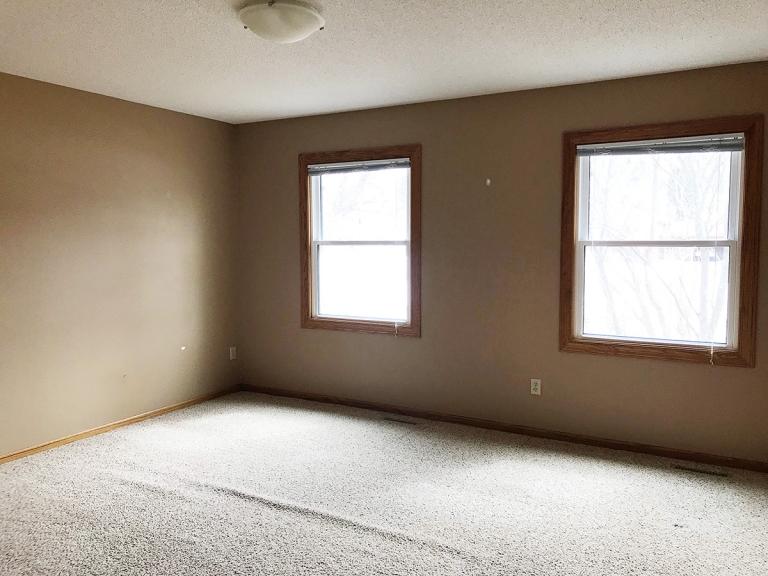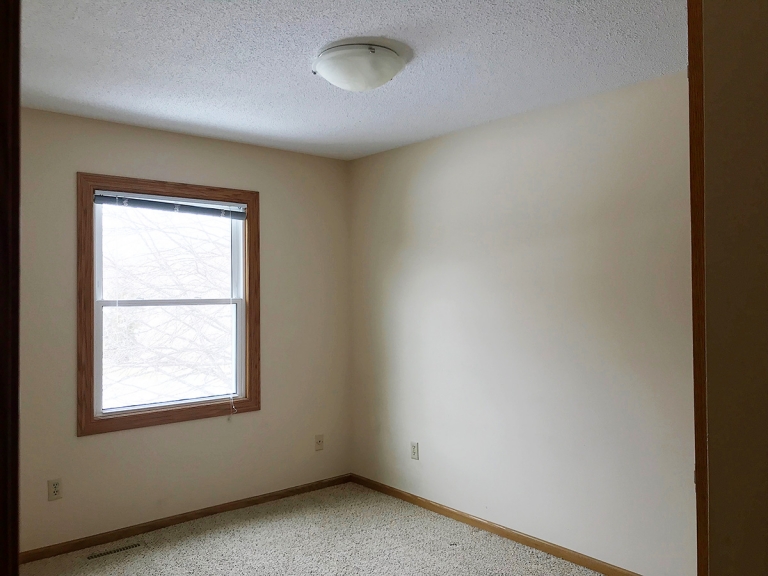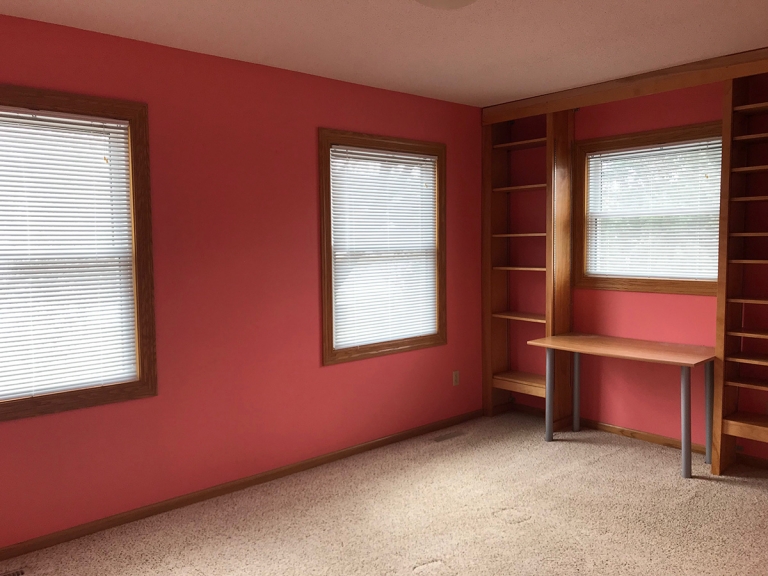 MASTER BEDROOM
There are 4 bedrooms upstairs; the master bedroom is on the smaller side so I'm going to have to get creative in there. Dustin already scraped the popcorn ceilings upstairs and resprayed them!
MASTER BATH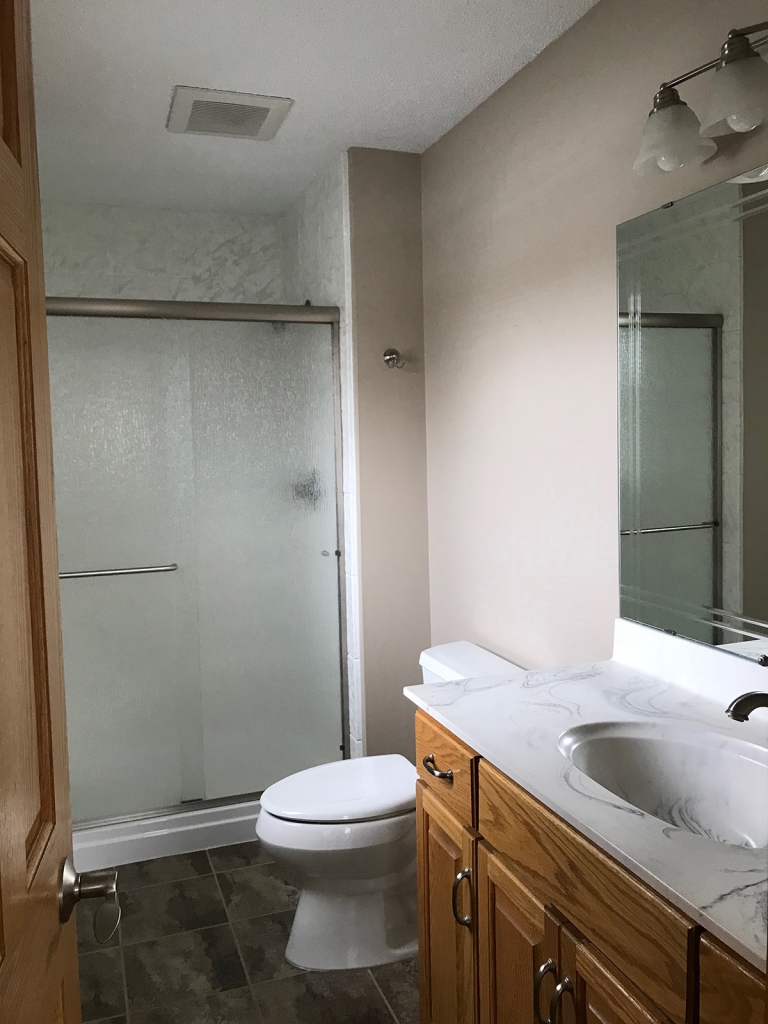 Again a later project 🙂
BASEMENT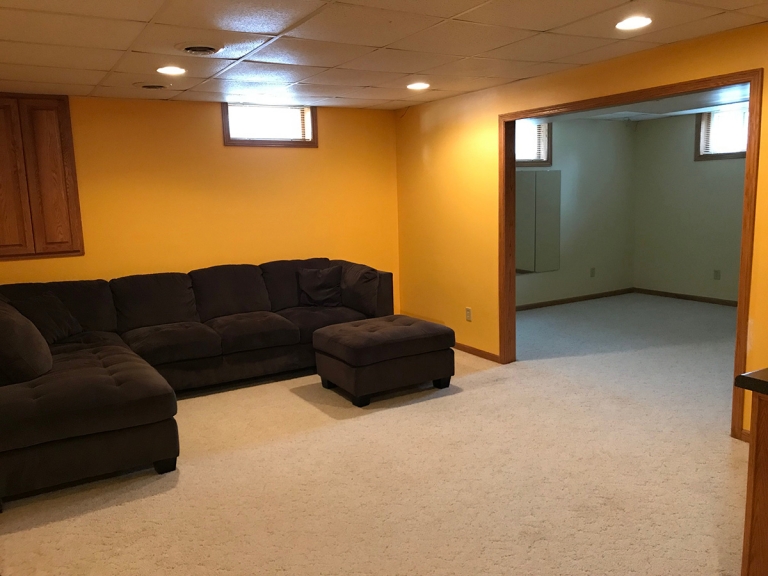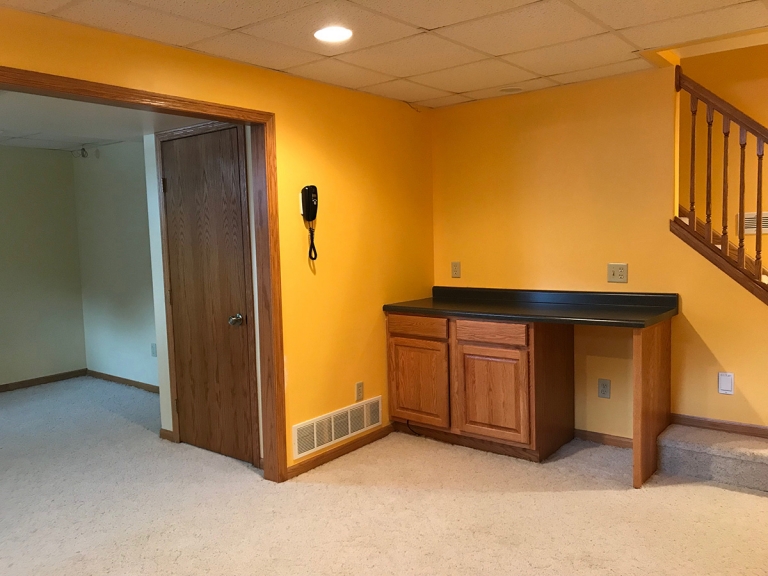 The basement is basically 2 large rooms plus a large utility room. We already painted over the gold paint and started painting that little bar area.
BACKYARD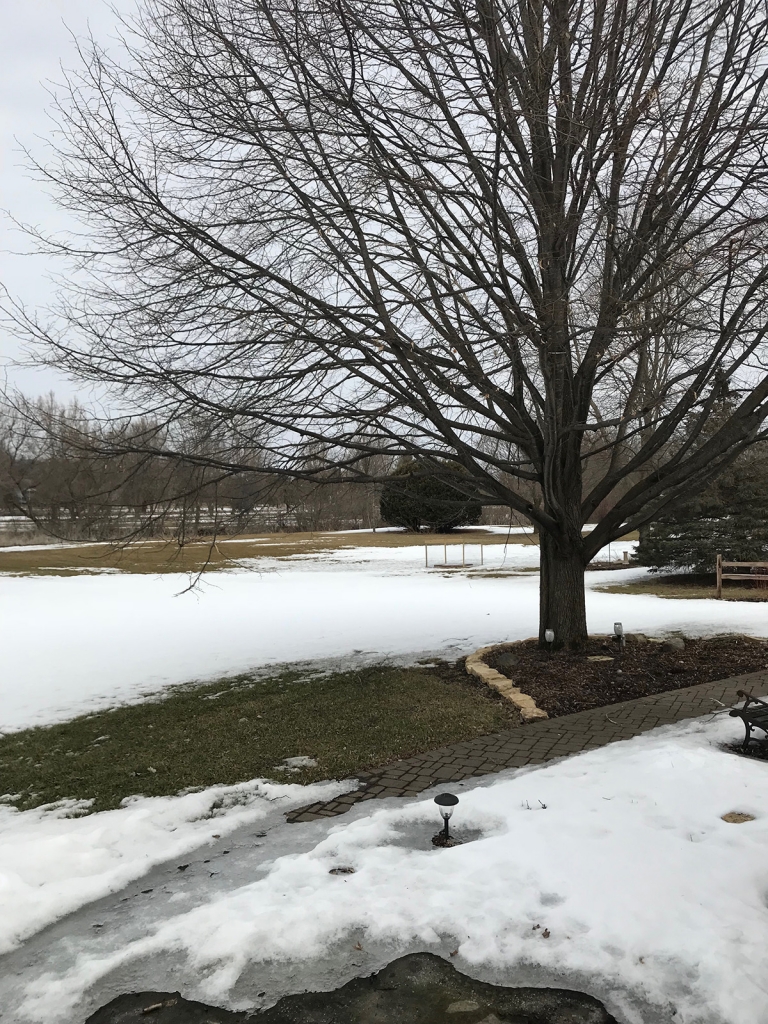 Yay for no backyard neighbors! I keep imagining what this will look like in the summer. This was definitely one of the selling points for us. It will be quite a change from living in a townhouse with no yard to this. We are very grateful it came to be ours.
—
We've already started demoing the kitchen and are super excited to start drawing up plans. I plan to share all of that with you too! If you go follow me on instagram, you'll see more details and real time updates on what we're doing!