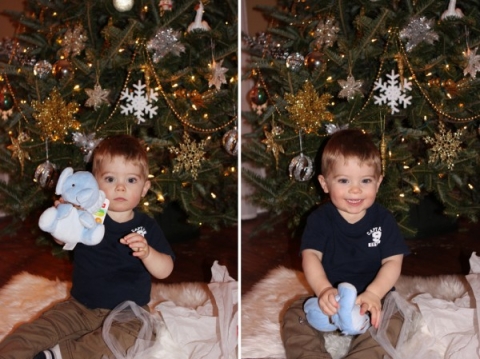 In case you didn't see on instagram or facebook, we found out we are having a BOY!!
We had this whole gender reveal thing planned but the little man had a different plan! We brought an envelope to the ultrasound for the tech to write the gender on (and not tell us) and then we were going to give it to my Mom who would then wrap up something blue or something pink. On Christmas Day, we were going to have Jack open the gift in front of everyone. Well…. during the ultrasound, as the tech was about to have us turn away, the little guy turned and showed us all! The tech quickly scrambled but there was no going back. D and I both saw he was ALL BOY! In order to save the reveal, we decided to still have my Mom wrap the something blue and do the reveal with my family that night.
As we were talking about the new baby at dinner that night and prior to the reveal, my sister caught me saying "him" and blurted out "Hey she just said what it was!! It's a boy!". And so it was doomed from the beginning. Of course I still wanted a picture of Jack opening the blue elephant but the whole "reveal" was not so much a reveal. haha My family says this story is better anyway. 🙂
Either way we are thrilled and so thankful for an active, healthy, little boy!