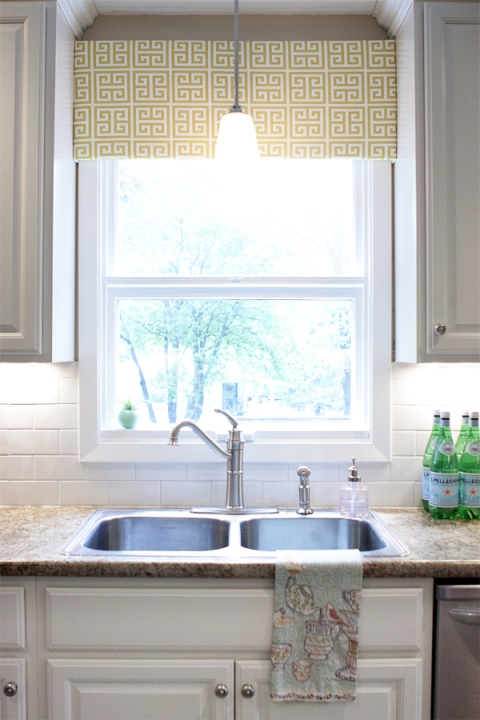 I'm super excited to share this with you today! As you may know, when we bought our house in January of 2012, it was stuck in the past.. 1971 to be exact. We knew there was going to be some major changes, the kitchen being the most important and drastic… The solution is to get best kitchen cabinets Tacoma area.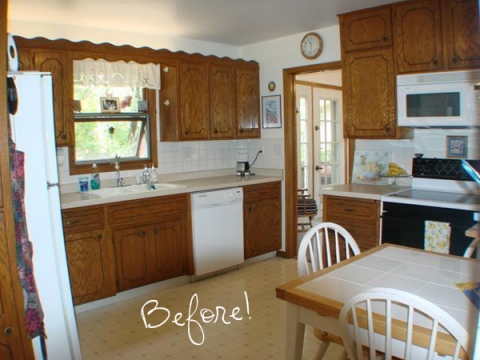 When I walked into the kitchen for the first time before even considering buying, my first thought was to remove the wall between the kitchen and dining room. So that's exactly what we did. (Well I didn't since I was 8 months pregnant but anyway..). Our original plan was to take down the wall and move the existing cabinets and appliances to the adjacent wall. We would keep the cabinets, simply paint them and get new hardware. Well our original plan spiraled when we realized we couldn't use the existing cabinets. They were old, in rough shape, and we would need a couple more cabinets to fill in other spaces (obviously NO ONE makes these anymore). Off to Home Depot we went.
We ordered out of the box cabinets and since D and my Dad work for PFS Services, they were able to install everything including new laminate flooring throughout the main. My mom along with Jay (a fabulous man in Kitchens at Home Depot) painstakingly helped draw the new kitchen plan. I got to do the fun design stuff like pick out door style, color, countertops, hardware finishes, and lighting. We also installed recessed lighting and had a contractor respray the ceiling because of the hole left from taking down the wall. D also painted the walls, installed white subway tile and under cabinet lighting, put up new baseboard, and most importantly assured me everything was all right every. single. night…
(I told you it spiraled.)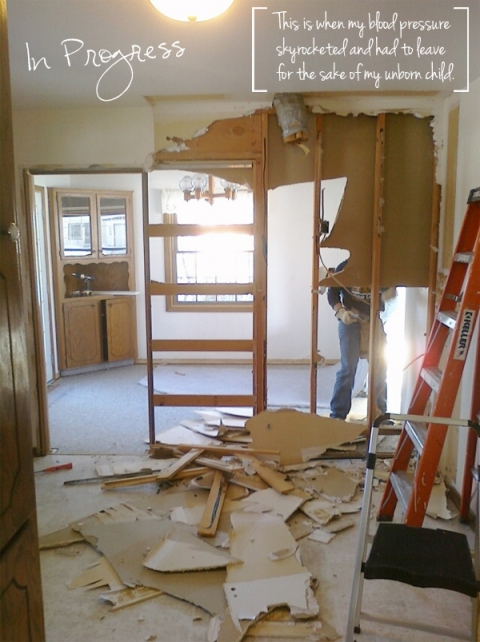 We cut down a ton of costs by doing most of it ourselves and buying at big box stores. I didn't go crazy with my lighting or countertop choices again to keep costs lower. We went with a simple laminate countertop with the back splash cut off (makes such a difference!) But someday I would love to replace it with marble or granite!
My favorite things are the corner cabinet for pretty displays, the pantry my mom suggested adding, the bead board on the peninsula and more recently my DIY valance! The next thing  we're planning to do is to have the windows changed to allow in more light. We always get top rated service from EZ Window Solutions so I think the kitchen will be perfect with new windows.
I'd been dreaming of a white kitchen for years and I am so happy (and relieved!) at the results.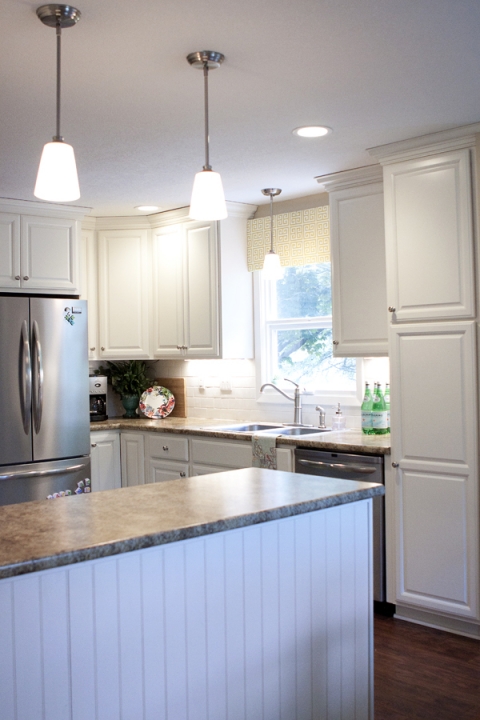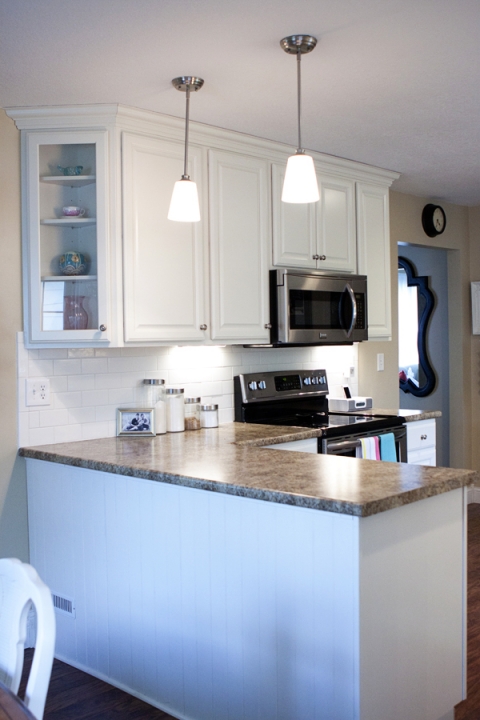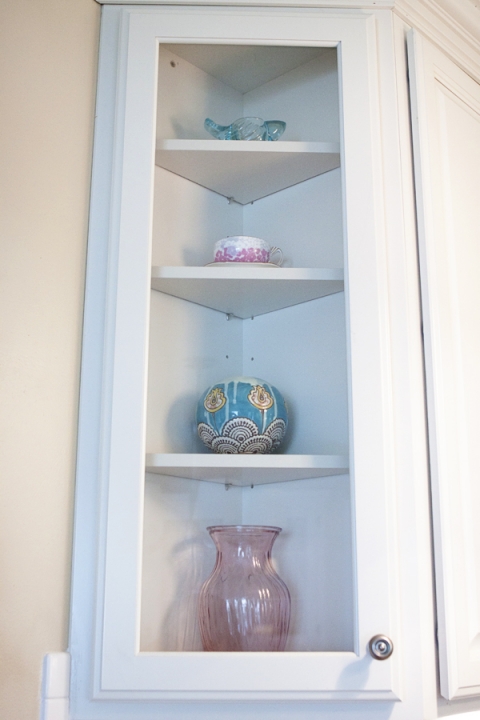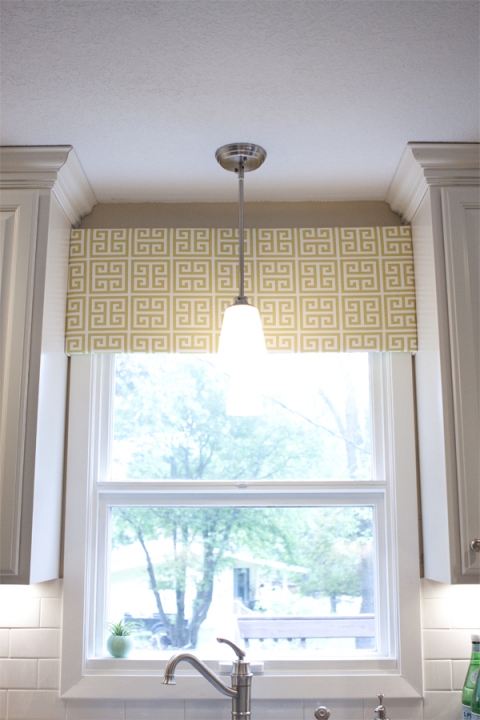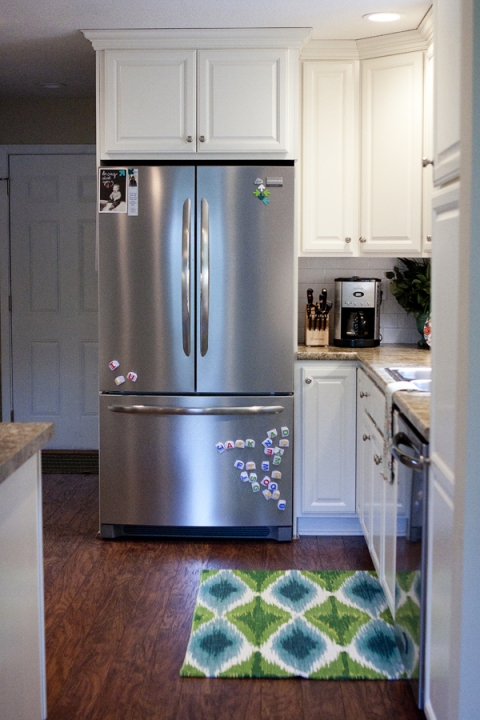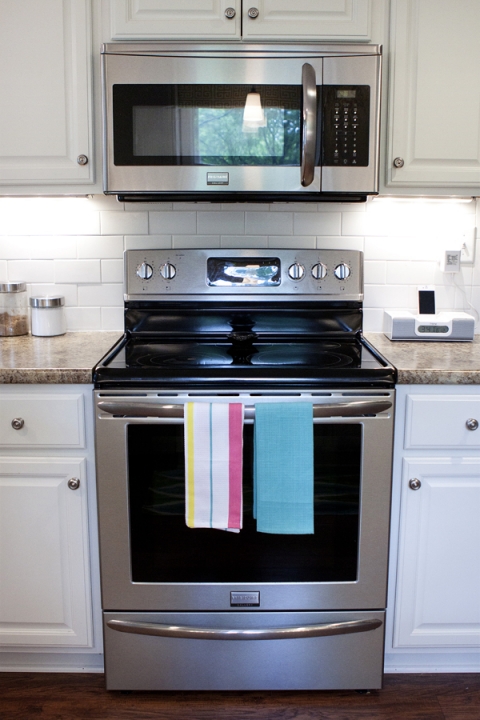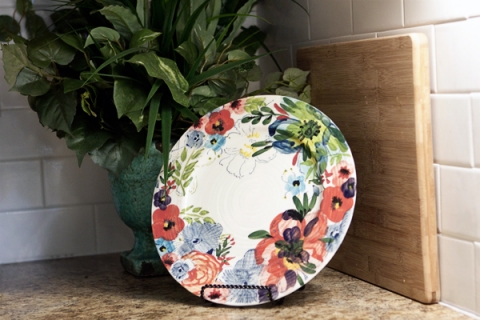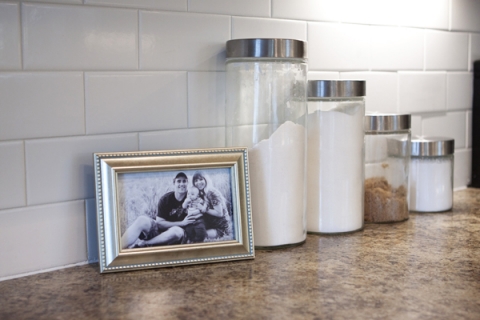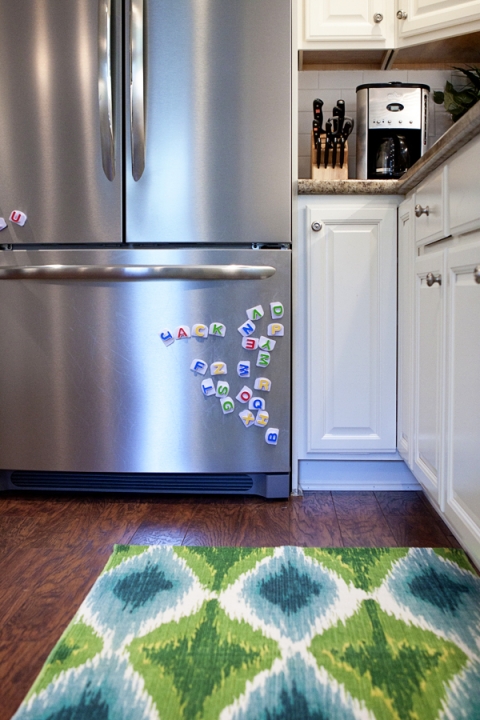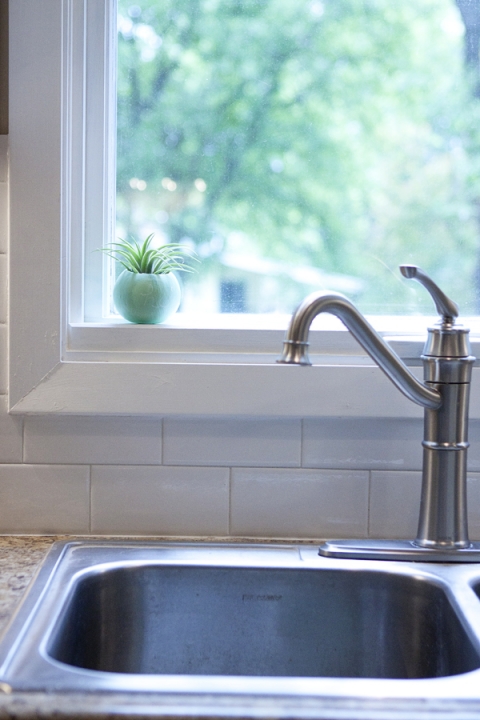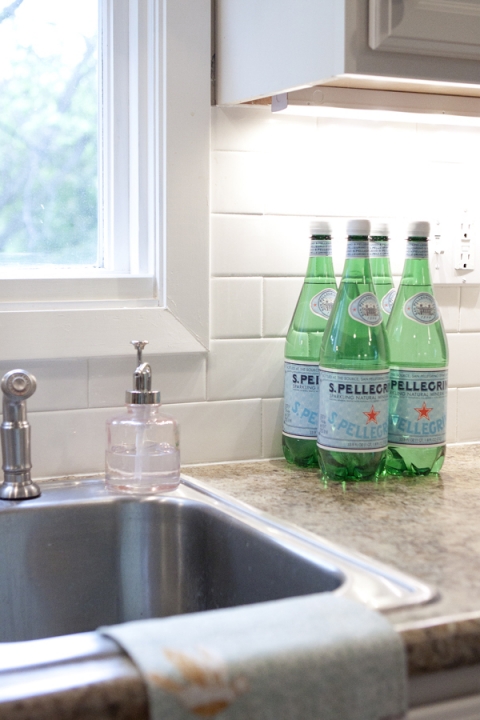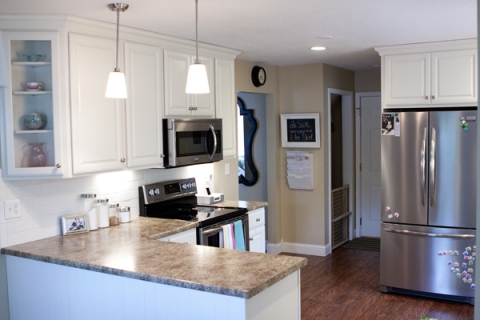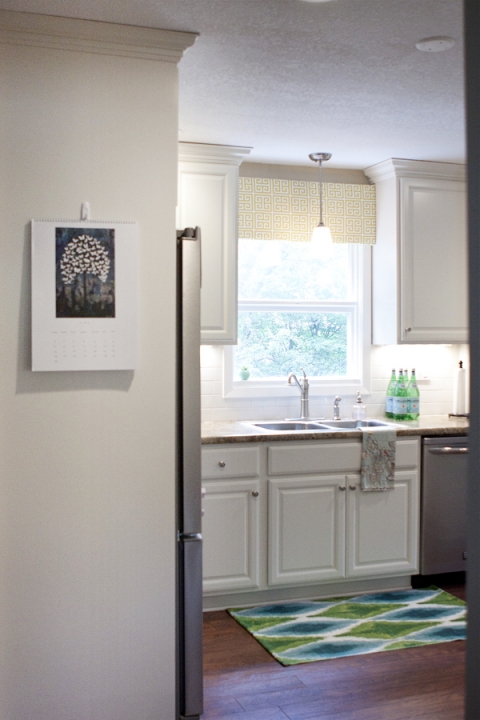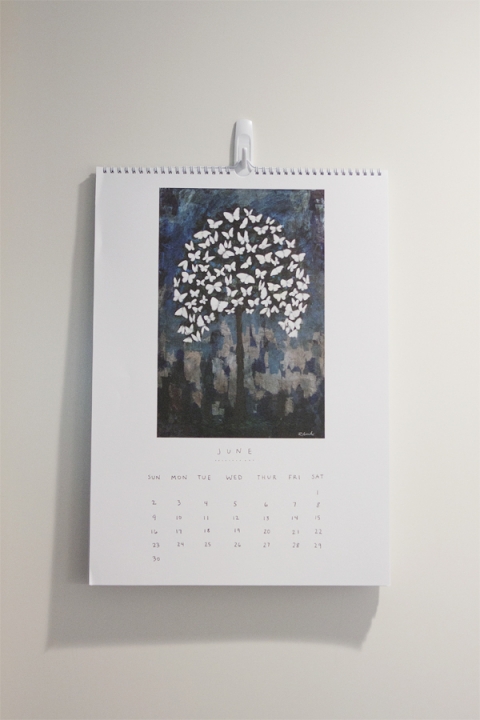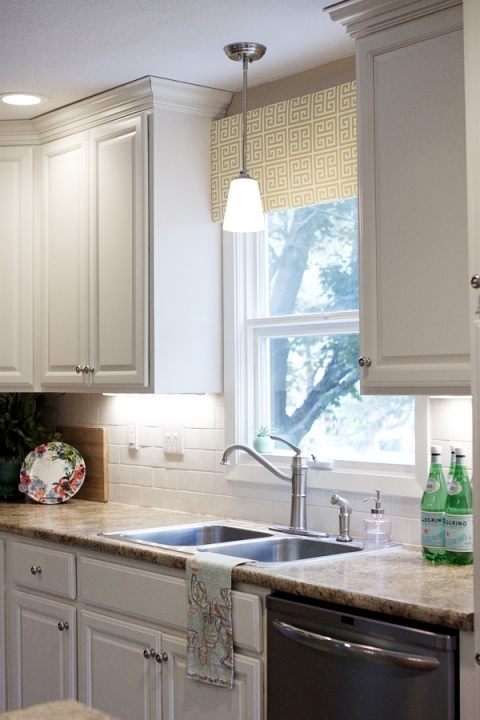 Source List: Cabinets: Kraft through Home Depot. Lighting, Hardware, Tile, & Countertops: Home Depot. Appliances: Appliance Smart. Plate, various vases, calendar, and tea towel: Anthropologie. Rug, soap dispenser, and hand towels: Target. Pelmet Box: DIY using Hancock Fabric. Canisters: Bed, Bath, & Beyond. Chalkboard: Vintage. File Hanging: Ikea. Air plant: Sea & Asters Wall Color: Toasted Marshmallow by Martha Stewart