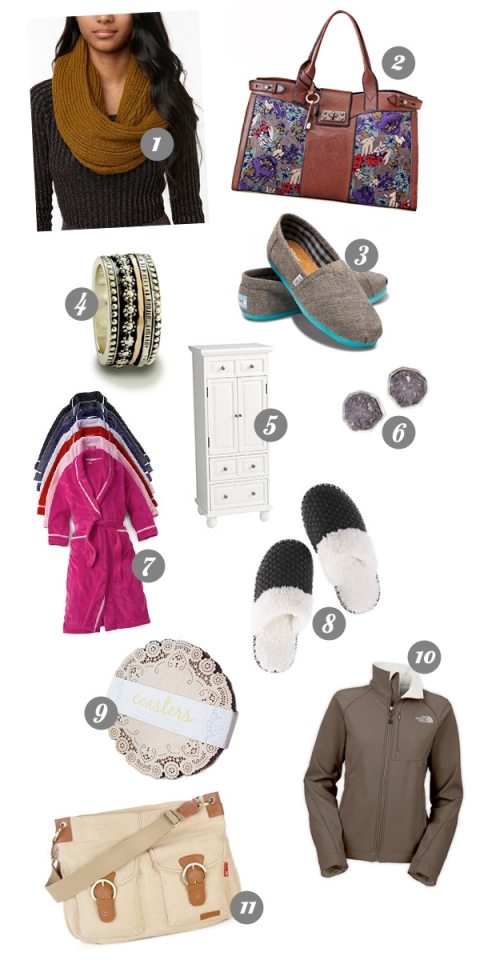 Everyone seems to be starting (or finishing!) their Christmas shopping… well that is, except me. haha I like to do these things last minute. I put together this little Christmas wish list for those that have been asking what I want. Maybe it will give you some gift ideas of your own. You can find out where all these items are from by going to my pinterest board!
1) Eternity Scarves Seriously love these. I got one last year and I wear it all the time. Great for the Minnesota weather too.
2) Fossil Satchel I love Fossil handbags. A lot of them this year like the Weekenders have a pretty patterns.
3) Toms I still don't have a pair. It's about time. Love the pop of teal!
4) Unique Wedding Band The one I have is pretty in platinum but a little too boring and I've seen lots of cool ones on Etsy. Hint Hint D!
5) Jewelry Armoire I have outgrown the one I have. This white one would be pretty.
6) Pretty Stud Earrings I usually wear dangled earrings but this won't do when the Baby starts grabbing and pulling! American Eagle always has pretty jewelry.
7) Cozy Long Robe For my hospital stay.
8) Cozy Slip-on Slippers Again for the hospital. I would love these things to be pretty and special!
9) Doily Coasters I have been wanting these for-ev-er!
10) Northface Softshell An essential in Minnesota!
11) Cute but neutral Diaper Bag My sister has this one and I loooove it. Hopefully D wouldn't be too embarrassed carrying it around either 😉
p.s. You still have a couple hours to enter the Yours Is The Earth giveaway! I will announce the winner later today!