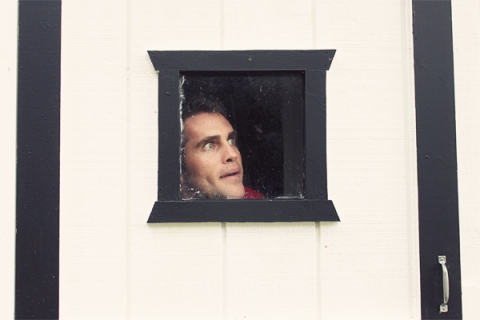 THE AWKWARD:
The husband's funny faces. Seriously sometimes he looks like a cartoon character. This should've probably went under Awesome.
My dad forgetting to pay for the gas before leaving the gas station. When he realized it, we were 15 miles away and not about to turn around. After realizing it, he kept looking behind us thinking the state troopers were after him. HAHA Needless to say, he had my brother-in-law go to the gas station to pay it.
The following incident: I go to the bathroom. Do my thing. I pull up my shorts and realize they are all wet. What the heck? Did I just pee on my pants instead of in the toilet?? I guess I wasn't really paying attention so it could've happened… Am I losing my mind? How did my shorts get all wet? I slowly open the bathroom door. I don't see anyone so I make a run for my bedroom with my wet shorts on. I change my shorts. As I am carrying my wet shorts to the laundry room, Abby catches me. She looks at me and then looks at the shorts I had been wearing the whole day. "Ah what are you doing??" she asked. "Ahhhhh" I stammer. "Did you pee your pants??" she laughs. "Abby – I don't know what happened…I might have… " I whisper embarrassed. "Don't tell Dusty" I say. She laughs and laughs. Later D enters. What does Abby do immediately? Tells D I peed my pants. He looks at me puzzled and I start to explain myself. He walks to the bathroom and notices the toilet is leaking onto the floor. Abby and D look at me and then burst out laughing. Turns out I didn't pee my pants. Turns out I'm an idiot for thinking I did. Wow.
THE AWESOME:
Looking forward to fall festivities. Apple orchard, football, homemade soup, fall colors… ahh I can't wait!
No work travel for awhile! I'm on a project that doesn't require weekly travel. Score!
Small group. For those who don't know what small group is, it's basically several couples from your church that meet for a weekly bible study. We make dinner at one of our houses, eat, talk, and then have a little study. D and I have been enjoying getting to know new friends and learning how to make our marriage even better 🙂
What's been awkward and awesome about your week??
Credit goes to Syndey for this post idea!