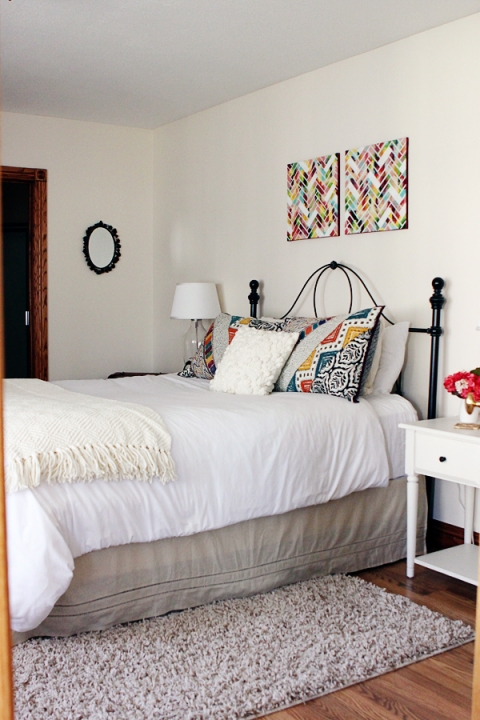 Sorry it took me so long to post this! It is a continuation of this post back in October. To give you a brief background…
Yes we are still living with my parents but recently bought a house. Well the house needs A LOT of work so we jumped right in renovating the day after closing. But since it's a long process and I will have this baby ANY day now, we decided to stay put in my parent's house for about a month after he is born. Hopefully at that point our house will be done and our growing little family can move in! I will share some pics of the house soon, I promise!
In the meantime, I want to show you the space we are living in for the time being! Back in October, I got the itch to do a little redecorating in the bedroom we were staying in at my parents'. This was actually my bedroom in high school! haha Weird huh? Back then it was decorated in a moon and stars theme. Since then my mom made it a rustic Minnesota guest room. When I approached her with the idea of redoing it AGAIN she was all for it. YAY! So I began… see my inspiration board here!
Here's a couple Before pics: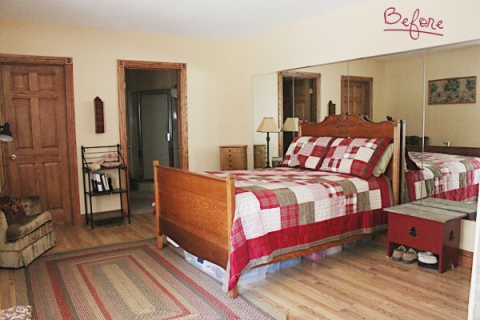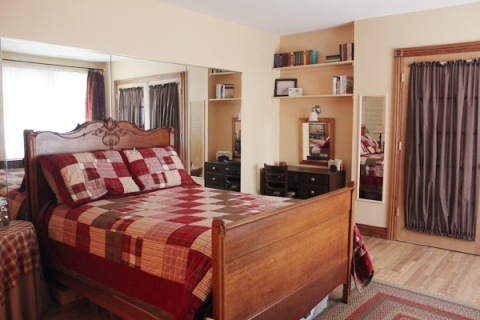 I wanted something lighter, brighter, but still cozy. I am definitely NOT an interior designer but really enjoy decorating and making spaces feel more like me. Here are the After pics!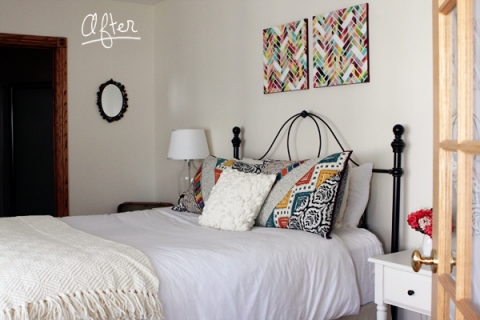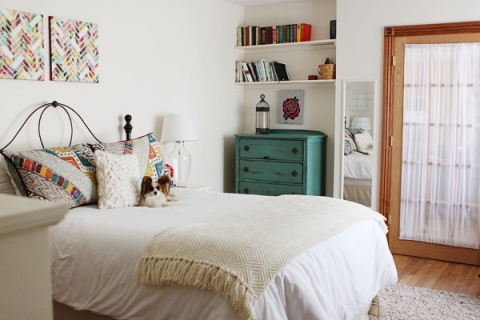 We first raided our storage garage and retrieved our guest bedroom headboard and pillow shams. I originally got the headboard at Ashley Furniture and the pillow shams from Anthropologie.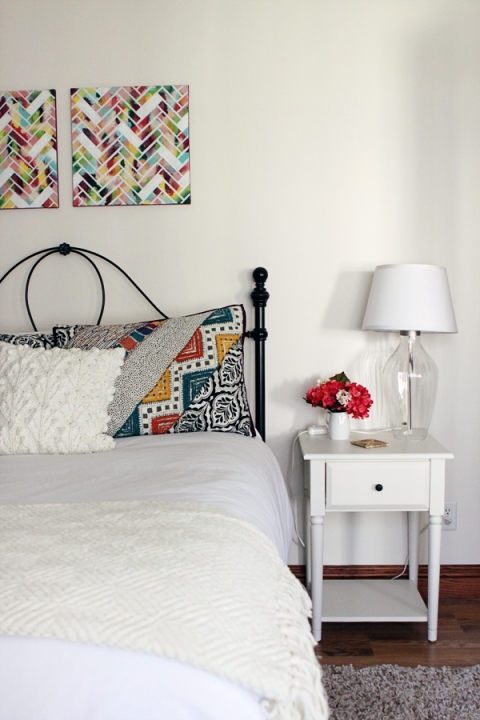 I got the cream sweater pillow from Pier One and both the white duvet and textured blanket are from Target. I bought a new sleepify bed because the old bed was just way to firm. The bed skirt is from Bed, Bath, & Beyond. The 2 nightstands are from Target and the glass lamps are from Ikea. The big shag rug is from Lowe's – great buy!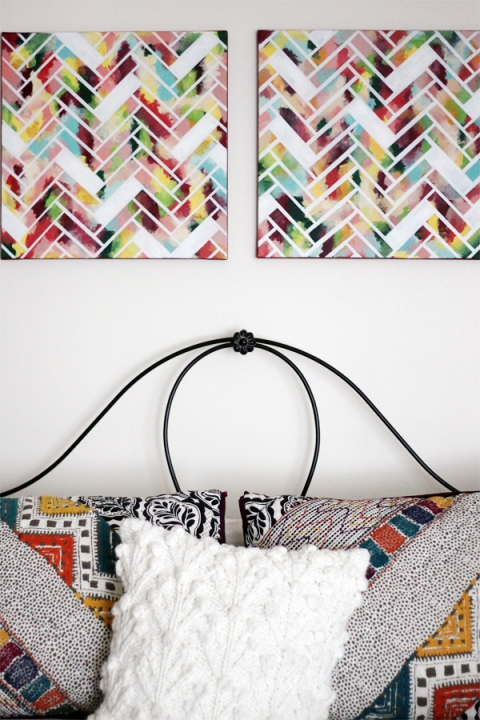 I did the art above the bed using inspiration from pinterest :).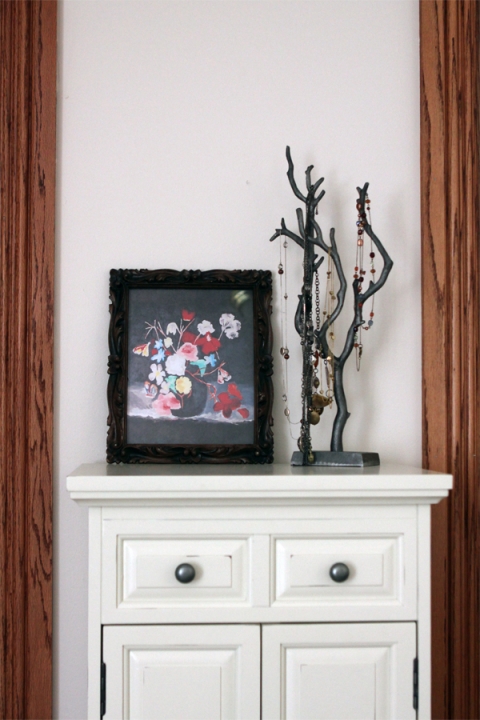 The white jewelry stand is from Pier One, The art is a reprint from this painting I did, the frame is reclaimed, and the jewelry tree is from Urban Outfitters.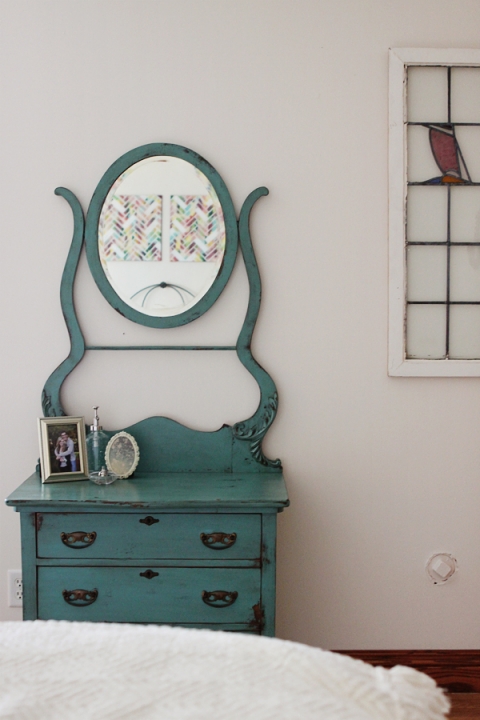 The 2 teal pieces of furniture my mom got at an antique fair called Gold Rush, definitely one of my favorites of the room!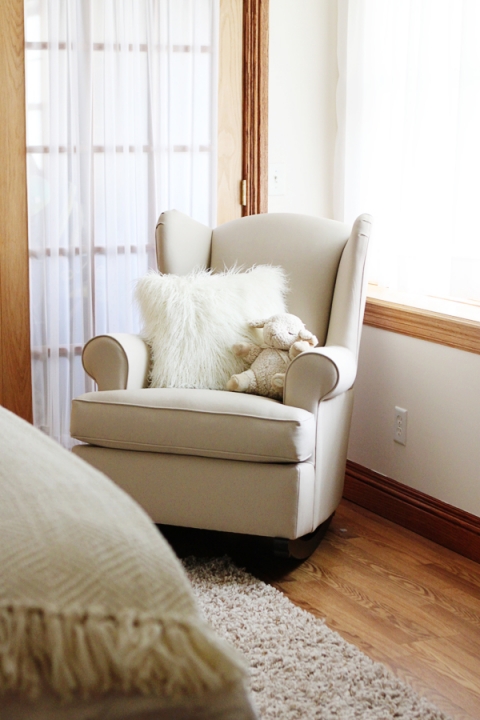 My rocker is from Pottery Barn Kids – had to splurge on it for Baby! The pillow is from Target and the Sleep Sheep from Amazon.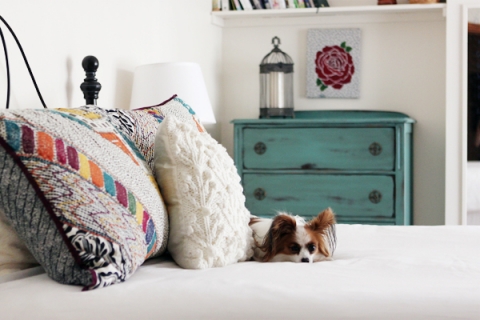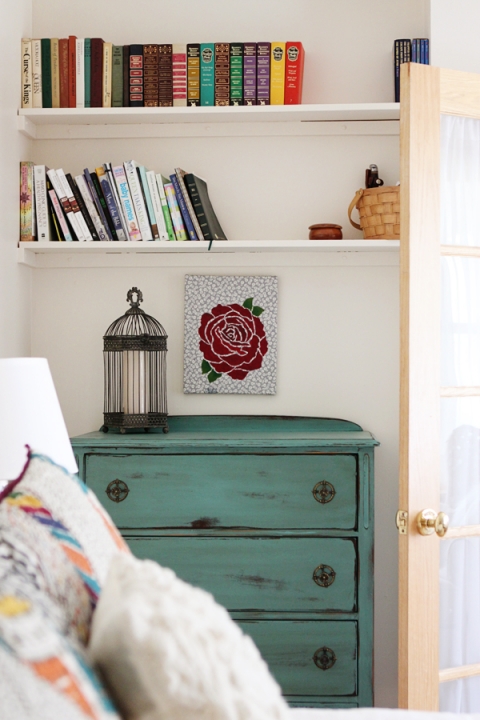 The bird cage and candle are from Hobby Lobby, I did the rose art, and the top shelf of books are a collection of my mom's.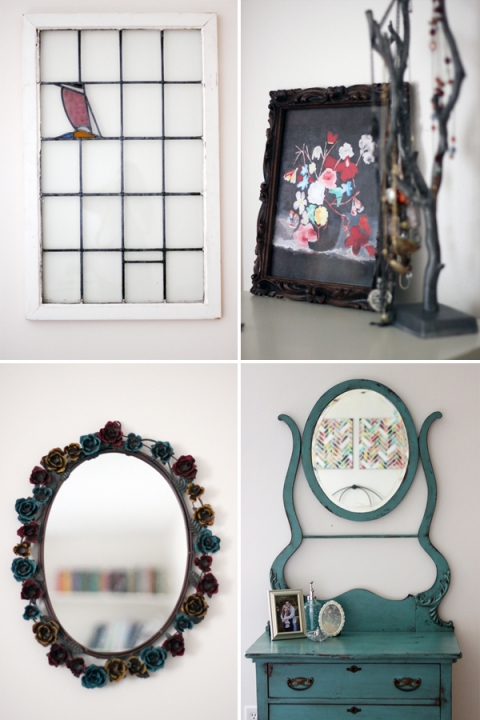 The sailboat window was a reclaimed piece given to me from a friend and the rose mirror is from Hobby Lobby.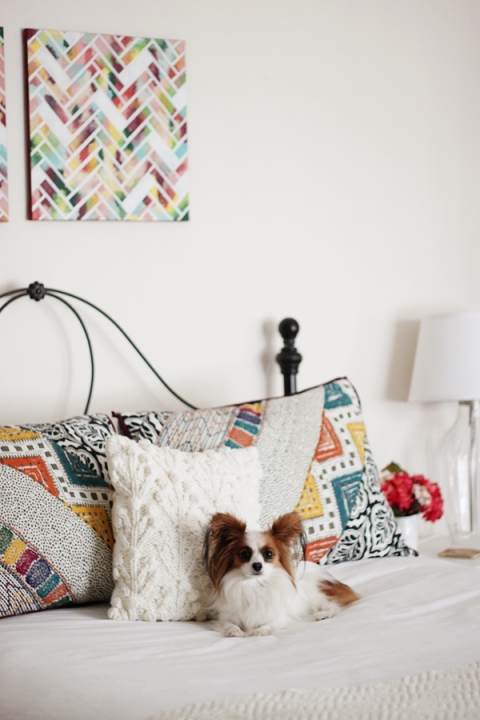 That's it! I hope you like it, now I'm off to set up the pack n play!